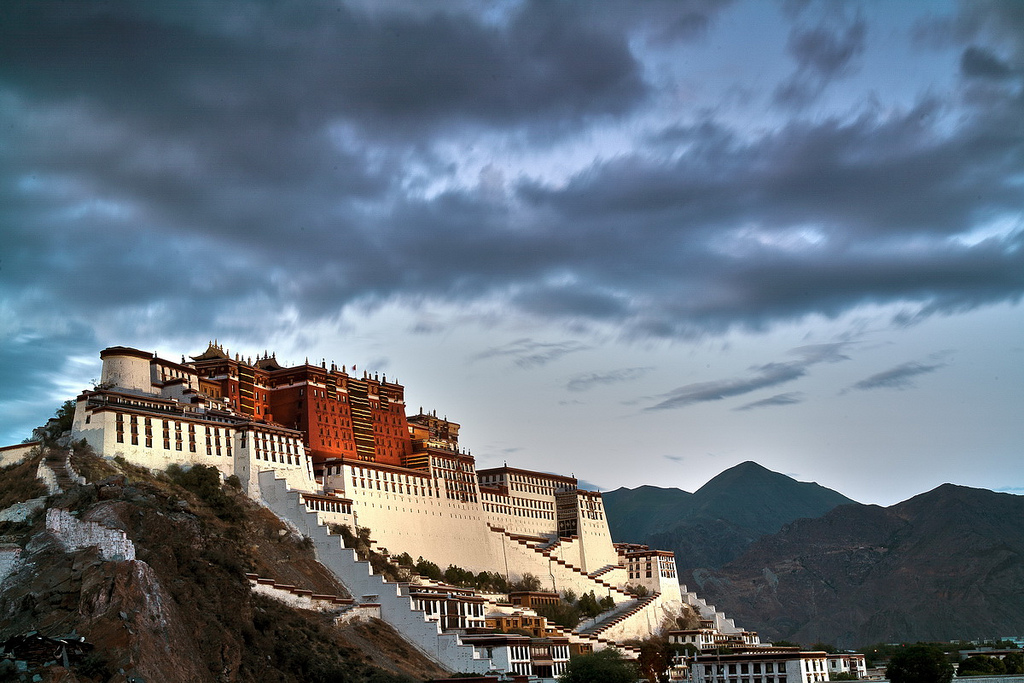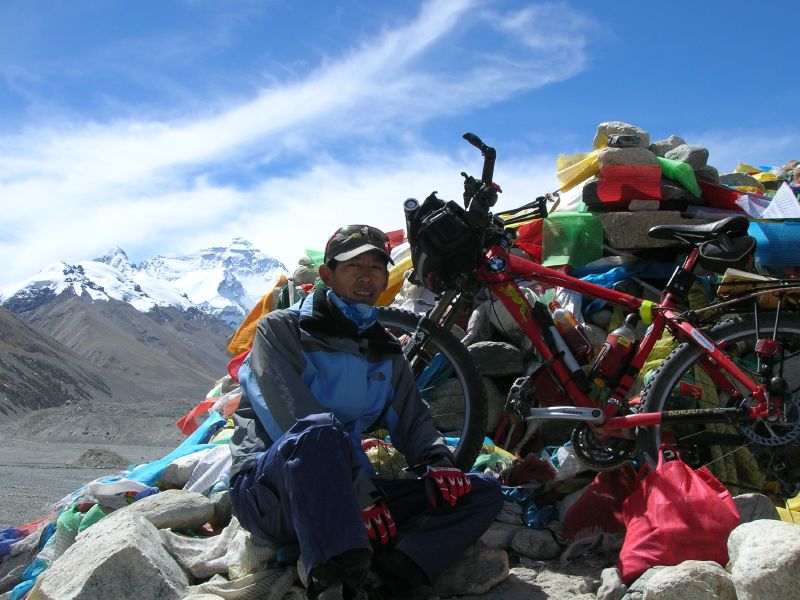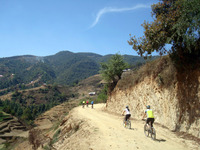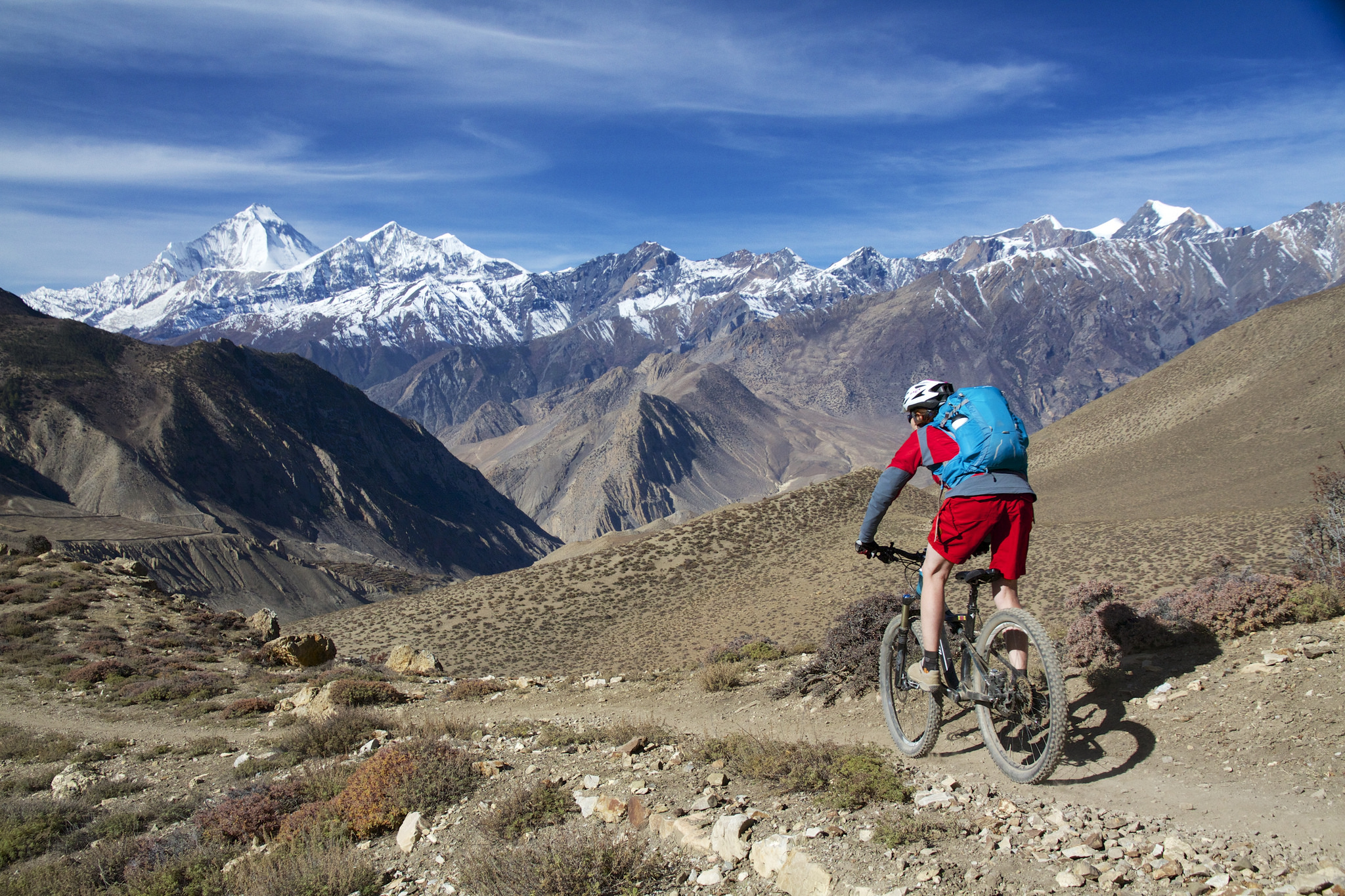 Lhasa To Kathmandu
Biking Adventure
This journey through Tibet's majestic scenery and exotic religious culture to Nepal's temples and stupas and soaring mountains is an adventure for those who like to get high on nature, culture, adrenalin and adventure. From the Roof of the World we ride down to the crossroads of ancient civilizations. After a spectacular flight from Kathmandu over the Himalayan range which separates Tibet from its neighbours India, Nepal and Bhutan, we land in Lhasa at an altitude of 3490 m (11450 ft).
To acclimatize we take it easy and go a tour of the city to see the Potola Palace and the maze of alleys that make up Barkor. Then it's time to venture out to see the true high-plateau country of Tibet with its spectacular mountain scenery and rich Buddhist culture.
On this trip, we will follow the Friendship Highway through some of the most amazing landscape on Earth. We'll pass small Tibetan settlements, nomadic herdsmen wandering across the wide arid plains and awe-inspiring mountain peaks, including the highest of them all.
We cycle up to Everest Base Camp and see where all the expeditions launch from. Equally as fascinating is the wealth of cultural interest and we will have plenty of opportunity to explore, both in Lhasa and the other towns we pass through on our journey to Kathmandu. We'll stay in hotels while in Kathmandu and Lhasa, but camp for 5 nights due to the remoteness of where we are.
The landscape is breathtakingly beautiful – colourful granite cliffs are framed in brilliant blue skies, ancient monasteries reflect the rich Tibetan Buddhist culture and behind it all is a backdrop of the snow capped peaks of the highest mountains in the world!
Biking Difficulty: (4 out of 5). Tarmac roads but they are at high altitudes which raises the difficulty level. No technical experience required.
Cycling Distance: 565 kilometres
Cycling Days: 9 full, 2 half
Departure dates 2015: 4 Jun, 3 Sep, 8 Oct
Departure dates 2016: 2 Jun, 7 Jul, 1 Sep, 6 Oct
Day to day program.
Day 1: Kathamandu (D)
Arrive to Nepal's capital of Kathmandu and meet at our central hotel. In the evening we'll hav e a bike fitting and also prepare all the documents for your Tibet visa. When all the work is done we'll walk to Thamel and have a local dinner. Overnight at Hotel Tibet.
Day 2: Kathmandu (B/L/D)
While we process your visas you will have free time to explore some local trails with bikes and enjoy Kathmandu's temples, monasteries and culture. Overnight at Hotel Tibet.
Ride 35 km.
Day 3: Kathmandu - Lhasa (B/L)
In the morning we will transfer to the airport for the hour-long flight to Lhasa. This spectacular flight will takes us right across the main Himalayan range and provides us with magnificent mountain views, including our first glimpse of Mt. Everest. After landing at Gonggar Airport and meeting our Tibetan guide, it is a two-hour drive to Lhasa where we will check in to our hotel to rest and start our acclimatization of being at 3490 m (11450 ft). Overnight at Hotel Sangbala.
Day 4: Lhasa (B/L)
Today we'll visit the main sites of Lhasa, including the Potala Palace. This building dominates the city of Lhasa and contains the private quarters of the Dalai Lama as well as numerous grand staterooms and many important chapels. There has been a palace on this site since the 5th or 6th century, but the present palace was constructed in the 17th century. Jokhang temple is possibly the most sacred shrine in Tibet and there is always a procession of devout Tibetans through the complex. Surrounding the Jokhang is the Barkor - a maze of narrow cobbled streets that is the central market of Lhasa. We also visit Drepund Monastery today. Overnight at Hotel Sangbala.
Day 5: Lhasa (B/L/D)
Today we will make sure our bikes are in working order by going for a warm up ride around Lhasa and the Lhasa River. We'll see a different side of the city as and explore the local culture and tradition. Before we head out together for a traditional Tibetan dinner we will have a trip briefing for our departure the next morning. Overnight at Hotel Sangbala.
Ride 25 km.
Day 6: Lhasa - Nagartze (B/L/D)
Today we start our drive and bike journey from Lhasa. Traveling by jeep 100 km along the highway to the Khamba La pass at an altitude of 4794m/15728 ft. Here we will have stunning views of Yamdrok Lake, Tibet's largest lake, to the snowy summit of Nazin Kang Sa (7252m/23792 ft). We start cycling here and ride along the lake to the west and camp near Nagartze, a large fishing village with good views to the lake. Overnight in Tented Camp.
Ride 45 km.
Day 7: Nagartze - Gyantse (B/L/D)
After breakfast we start with a transfer up to the top of Karo La pass (5010 m/16437 ft) where we are treated to the spectacular sight of a huge glacier tumbling down to within a few hundred metres of the road. We'll start biking with a 14 km downhill as we head towards Gyantse. Today we'll pass through beautiful valleys and colorful Tibetan villages. You'll likely see villagers working their barley fields. We camp just before the village of Gyantse. Overnight at Jian Zang Hotel.
Ride 70 km.
Day 8: Gyantse - Shigatse - Tso La (B/L/D)
We take the morning off the bikes to visit the Gyantse Dzong and Kumbum monastery. The Dzong is a fort dating from the 14th century from which there are amazing views of both Gyantse itself and the surrounding Nyang Chu Valley. The Kumbum is a large gold-domed stupa and its many small chapels house an impressive array of Tibetan Buddhist murals. On our drive to Shigatse, the second largest city in Tibet, we'll ride for 33 km on the best section of the route, arriving in time for lunch. Following a visit to Tashilumpo Monastery, one of the largest functioning monasteries in Tibet, we'll ride to our tented camp at the base of Tso La pass for the night. Overnignt in Tented Camp.
Ride 33 km.
Day 9: Tso La – Lhatse (B/L/D)
Today we will have full day of exhilarating biking. We start with some climbing to the top of Tso La pass at 4520 m/ 14829 ft and then there's a fantastic downhill on a paved road. Here you'll notice that the land is more fertile and the village people will be curious about the foreigners biking through. We will camp just beyond the sleepy town of Lhatse. Overnight in Tented Camp.
Ride 70 km.
Day 10: Lhatse – Rongbok (B/L/D)
We start our day with a drive up to Gyatso La pass which at 5220 m/ 17125 ft is the highest pass of the tour. When we see the sign "Qomolangma (Tibetan name for Mt. Everest) National Level Nature Preserve" we turn left drive up to the Pang La pass. Here we'll get on our bikes do some great off road riding, mostly downhill, to Tashizhong. It's a short transfer to Rongbok, at 5000 m/16404 ft, our highest overnight of the trip. Depending on the weather, we'll either camp or stay at a basic guesthouse run by monastery. Overnight in Tented Camp.
Ride 40 km.
Day 11: Rongbok – Everest Base Camp – Tingri (B/L/D)
If the weather cooperates you should have perfect views of Mt. Everest in the morning. Everest Base Camp is just 8 km away and we ride up for a visit . On our return, depending on season, we have an option of taking a short cut to Tingri with a great trail for biking. If it's wet, we'll stick to the road and return the same way we came down to Tingri and our camp at 4200 m/ 13779 ft. Overnight in Tented Camp.
Ride 36 km.
Day 12: Tingri - Lalung La (B/L/D)
Today is a full day of biking through Tibetan villages, grasslands, with views of ruins of forts in the distance and houses and Himalayas. Today we will camp very close to a small river and the small village of Sumo. Overnight in Tented Camp.
Ride 70 km.
Day 13: Lalung La - Nyalam (B/L/D)
A tough start of the day with two passes – Lalung La (4850 m/15912 ft) and Yarle Shung La (5050 m/ 16568 ft) but an easy end with a descent all the way to our overnight Just after descending Lalung La pass it can be very windy and perhaps we'll hop in the vans to finish the distance. We stay in a basic guesthouse but meals will be provided by our camp crew. Overnight at Basic Guesthouse.
Ride 85 km.
Day 14: Nyalam – Kathmandu (B/L/D)
On this day we are biking all the way down from 3700 m/12139 ft to the Nepal border and the Friendship Bridge at 1800 m/5905 ft. We then drive to Kathmandu which will take about 5 hours. Tonight we celebrate our final day with a farewell dinner in Thamel. Overnight at Hotel Tibet.
Ride 55 km.
Day 15: Kathmandu.
Morning free until onward travel.
Price per person                 USD 4500,-
Single Supplement            USD 550,-
Bike Hire                             USD 325,-
Included in the price:
• Accommodation as mentioned in the program (B = breakfast, L = lunch, D = dinner.)
• Flight Kathmandu to Lhasa
• Meals as mentioned in the program
• Transfers and transport according to the program
• All entrance fees and tours as indicated in the program.
• Support vehicles to carry your luggage and provide a place for you to rest if you get tired
• Our staff will make any running repairs on your bike
• Water, fruit, soft drinks and snacks along the ride.
• Local English speaking guide
Not included in the price:
• Accommodation other than mentioned in the program
• Meals other than those mentioned in the program
• Visa arrangements
• International and domestic flights
• International departure tax if any
• Camera/video entrance fees
• Personal expenses (drinks, laundry, telephone, tips etc).
• Travel insurance
• Other services not clearly indicated in the package inclusions above.
Trip profile:
We ride more than 560 km in 11 cycling days. Tibet is not what we would call a technical mountain bike tour as it is largely on road even though the roads are often rough. This tour is best suited for a frequent recreational biker or a keen mountain biker who considers themselves fit and is looking for a challenge and a new world experience. It is the combination of conditions – altitude, weather, topography and overall environment – that makes this tour a challenging course and a test of sustained riding. Remember, all our tours are vehicle supported which allows cyclist the option to get into the van as required.
Suitability:
The lack of oxygen at the high altitudes we'll be cycling at as well as the climbs we'll be doing means that this is a tough trip and you'll enjoy it much more if you have a good level of stamina and fitness. We spend three days acclimatizing in Lhasa and slowly increase our level of activities during those days to prepare you for the passes ahead.
Biking Conditions:
We will cycle on primarily paved roads, though in high altitude conditions of extreme weather, there will be patches where the road has disintegrated and will be potholed or even gravel. There are a few sections of dirt roads and the option of a trail ride when we return from Everest Base Camp if the weather is good. The challenge will be cycling at extreme high altitude. This trip is fully supported and weary cyclists can take breaks in the support vehicles if required.
Bikes:
Because some people can't imagine going on a trip without their own beloved bicycle, we do not provide them as part of this tour. However, you are able to hire bikes locally for the price listed on the front page of this document. The bikes are well-known makes of mountain bikes (depending on the tour) with lightweight alloy frames, 24- to 27-speed gearing, v-brakes and Shimano components and front suspension. If you bring your own bike, please make sure it is a mountain bike, preferably with front suspension, and that it is in good mechanical order.
Bike Repairs:
Basic spares and tools are carried by the guide and on the support vehicle, though we cannot guarantee having spares for every conceivable problem. Carrying a basic tool kit, a spare tube and a pump while riding is recommended.
Safety:
Wearing a helmet is strongly recommended on all our biking adventures and if you choose not to wear one you will be asked to sign a liability waiver. Your tour leader is trained in first aid and emergency rescue, but to a large degree you must be responsible for your own safety while riding. It is therefore compulsory that you take out travel insurance that will cover you for a mountain biking tour.
Support:
We will be supported by vehicles throughout this tour and they are always available for tired cyclists. It is very easy to get bikes on and off, so you can rest when you are tired and cycle whenever you feel like it.
Guides:
You will be led by a local english-speaking guide and if the group is 8 people or more we will add another guide to the tour. All our guides are well informed in the history, culture and religions of the area where you are biking and are skilled at passing that knowledge on to you. Your guide is also medically trained and an experienced cyclist, able to handle most minor repairs en route.
Arriving and Departing:
This tour begins and ends in Kathmandu. The flight from Kathmandu to Lhasa is included in the tour price. International flights, to and from the start and finish points are not included in the tour price. Please contact us for advice before arranging flights for the best arrival and departure times.
Passports and Visas:
Please make sure that your passport is still valid for at least six months at the end of the tour. All foreigners, except Indians, must have a visa. You can obtain a visa on arrival at the airport by filling out an application form and providing a passport photograph. To get a jump on the line, you can download a visa application form from the websites of the Nepali embassy in Washington, DC or London ahead of time.
A single-entry visa valid for 60 days costs US$30. Your Tibet Visa is not included in the tour price, however we will obtain it for you once you arrive in Kathmandu. Costs are based on nationality, approximately $205 for US citizens and $120 for other nationalities. Please make sure to bring least 4 passport size photos and 2 copies of your passport.
Health:
There are no compulsory vaccinations although it is strongly recommended that you are vaccinated against: Typhoid; Hepatitis A and B. Tetanus and polio vaccinations should also be up to date at the time of travel. If you have come from an area infected with yellow fever you are required to be vaccinated before entering the country. Please speak to your doctor/physician for the most recent information.
Altitude:
Travellers to the Himalayas may suffer breathlessness and headaches before becoming acclimatized. Though we won't be going over 2,000 m/6,000 ft, it is important to take things lightly at first and to drink plenty of water.
Weather:
Temperatures and climate vary according to the altitude. Nepal has two seasons – the dry season runs from October to May and the wet (monsoon) season from June to September, when 80% of the rain falls. Nepal's weather is generally predictable and pleasant with March to May (spring) and September to November (autumn) being the best times to visit. The Kathmandu Valley, at an altitude of 1,310 m/ 4,297 ft, has a mild climate, ranging from 19-27ºC/67-81ºF in summer, and 2-20ºC /36-68ºF in winter. Come prepared for chilly evenings and bring proper gear for brisk early morning starts and descents.
Accommodation:
In Kathmandu, guests can look forward to staying at the Samsara Hotel. In Lhasa we'll stay at the comfortable Hotel Sangbala. During our route from Lhasa to Kathmandu we'll camp for seven nights. You will sleep in tents and a mess tent, toilet (with a seat) and shower tents are also provided. All accommodation described in the itinerary are included in the tour cost.
Food:
Meals are included in the itinerary where B = breakfast, L = lunch, and D = dinner. Camping meals will be prepared by the cook team and feature Nepali and Western-style cuisine. Any special dietary requirements can also be catered for as well. Please let us know at the time of booking.
Drink:
Keeping you completely hydrated is a job we take very seriously. Cold water and energy-restoring drinks are included in the tour price while riding. Soft drinks and other beverages are not included during meals. Beer and alcohol are NOT included in the price.
Solo Travellers:
We do not require you to pay a surcharge for travelling alone. We will arrange for you to share accommodation with another traveller of the same gender and if we can not match you up we will provide a single room at no extra charge. If you prefer not to share a single supplement is payable to guarantee your own room. The cost of the single supplement is listed above.
Extra Expenses:
We recommend that you tuck away a few extra dollars a day for incidentals. Included entrance fees are those for the listed sites and national parks that are part of the itinerary. Any other site fees are not included.
Money:
The currency is the Nepali rupee (Rs) and there are Standard Chartered Bank ATMs in Kathmandu that take international cards. However, to be safe, we suggest you change money in Kathmandu and carry cash as backup in case the power goes down, the ATM is out of order, or you lose or break your plastic. Major credit cards are widely accepted at midrange and better hotels, restaurants and fancy shops in the Kathmandu Valley.
In Lhasa Renminbi can be exchanged for foreign currency or travelers checks at the airport and the Bank of China. The official rate is given almost everywhere and the exchange charge is standardized. ATMs are available in Lhasa and Shigatse and you can use Visa, MasterCard, Cirrus, Maestro, Plus and American Express (AmEx) to withdraw cash but there is a maximum daily withdrawal amount. Moneychangers by the Nepal border will change yuan into Nepali rupees.
Notes:
• The information in this document is given in good faith, and covers the average range of conditions likely to be found on this trip. Please note that the itinerary is subject to change due to unforeseen circumstances, however, we will always do our best to adhere to this original itinerary.
• In remote destinations abnormal conditions can prevail at any time, and all adventurous holidays can therefore be subject to unexpected change. Though we will do our best to adhere to the original itinerary, we cannot be held responsible for any last minute changes. This also applies to the hotels mentioned and any changes will be to another hotel of the same or higher standard. In order to enjoy your cycling holiday you should be prepared to be flexible when necessary.
• Our tours require only a minimum of 2 reservations to guarantee departure and are never larger than 16 people.
• We live in Asia and have thoroughly researched the routes to assure that you see the best scenery and ride the best terrain, be it on road or dirt.
• We have carefully chosen accommodation that is the best available for the location and offer a good mix, from home stays to luxurious lodges, on our tours.
• We love Asian cuisine, wellknown for being hot and spicy and for its use of fresh ingredients, and will make sure you get to sample lots of it.
• If these dates don't suit your travel schedule, please contact us to talk about operating a private tour or customizing a tour for you or your group.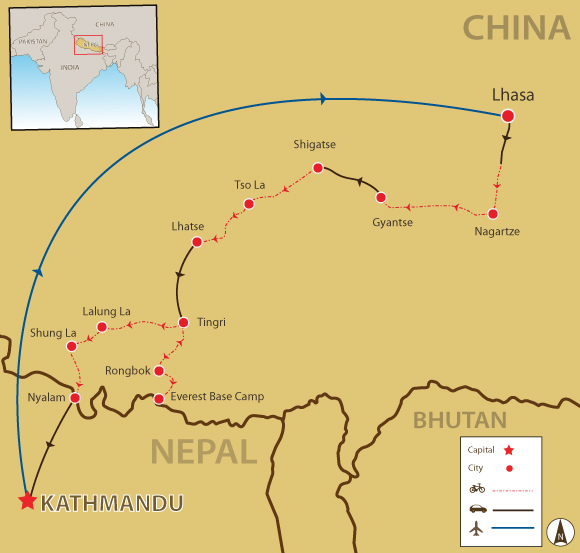 Email: Contact@insighttoasia.com
Phone: +66 856869402
Facebook: Insighttoasia