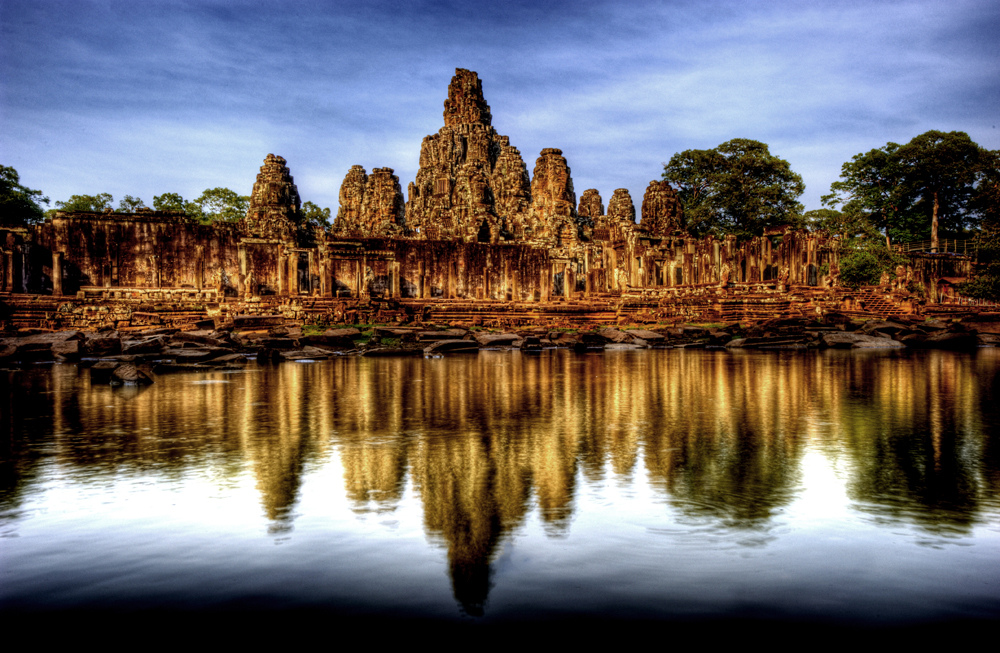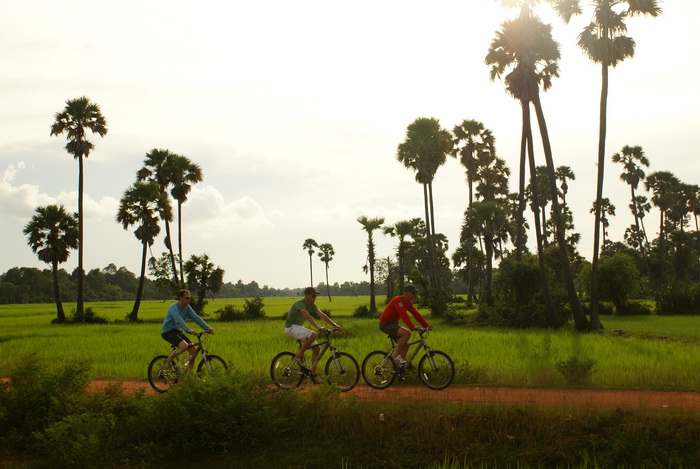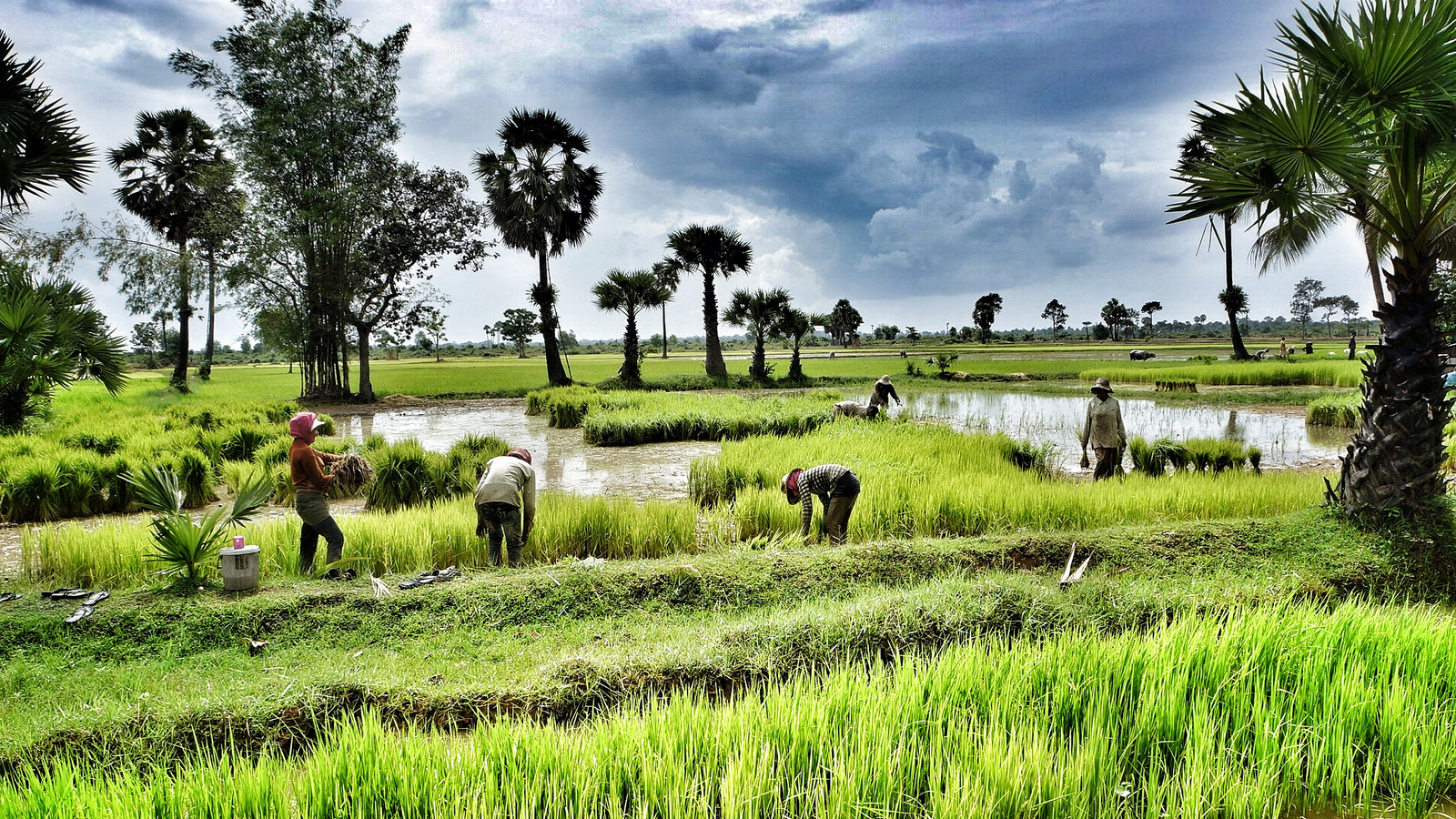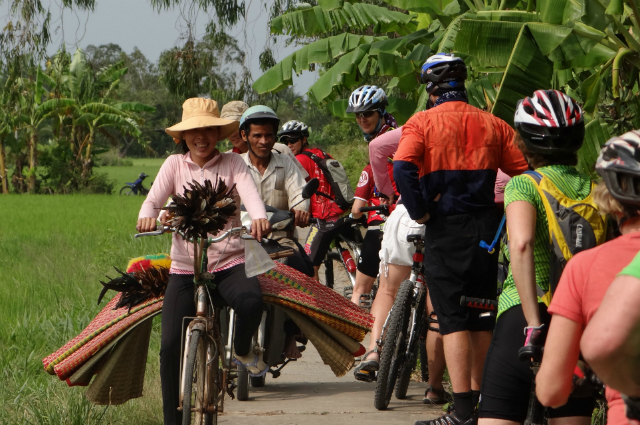 This amazing bike tour takes you through two of Southeast Asia's most diverse and fascinating countries. Commencing in Saigon we head into Vietnam's rice bowl and the Mekong Delta. This fascinating area is flat and lush and is quite unlike anywhere else in Vietnam. Although it is a densely populated area we manage to take quiet back roads and see some of the serene beauty of this area as we pass lotus flower ponds surrounded by ancient trees, ride along and over canals and roads lined with coconut trees and bamboo.
Our entry into Cambodia is by boat as we head up one of Asia's great rivers, the Mekong, to Phnom Penh. Enjoy the French colonial charms of Phnom Penh before cycling on to Kampong Thom where after our tour of the temples and a local lunch we ride among paddy fields before our two hour transfer by road to Siem Reap. One of the highlights is, of course, riding amongst a thousand years of history at Angkor and we explore the extraordinary temple complexes. Putting two charming countries together in one tour gives a great insight into Southeast Asia, its culture, its scenery and its wonderfully friendly people
Biking difficulty: (3 out of 5). This tour follows a mix of good asphalt roads and vehicle-width dirt roads, which may be smooth, gritty, stony, rocky, rutted, loose or hard-packed. No technical experience required.
Cycling Distance: 338 kilometres
Cycling Days: 4 full, 2 half
Departure dates 2015: 
Departure dates 2016: 
Day to day program.
Day 1: Ho Chi Minh City (D)
We meet at Northern Hotel, Ho Chi Minh City (please contact us if you need rooms or flights from Bangkok). We spend the day unboxing and testing bikes and give you some time to explore the city. In the evening we dine at the enchanting Temple Club Restaurant. Overnight at Northern Hotel.
Day 2: Ho Chi Minh City – Tra Vinh (B/L/D)
After breakfast transfer a couple of hours out of Ho Chi Minh to Cai Be - the gateway to the Mekong Delta. Today's ride will lead you right into the heart of rural Mekong, as you pedal down narrow roads and lanes, past banana plantations and fields of sugarcane. A section of biking takes us off road onto gravel and dirt lanes, weaving through hamlets, across rivers and through quite thick vegetation, this makes for superb biking. A final ferry crossing takes to Tra Vinh a pretty tree-lined town with many ethnic Khmers. Overnight at Cuu Long Hotel.
Ride 45 km.
Day 3: Tra Vinh – Can Tho (B/L/D)
The route today is peaceful and the road is scenic all the way to our destination of Can Tho. There is plenty to see along the way from contrasting architectural styles of Khmer homes and temples to the rich and colourful river scenes when crossing many small bridges. Overnigh at Ninh Kieu 2 Hotel.
Ride 92 km.
Day 4: Can Tho – Chau Doc (B/L/D)
Visit Cai Rang Floating market before transferring approximately one hour to the start of the ride. Once more the scenery is completely different. From Tri Ton the cycling starts to gently undulate and mountains begin to loom as you ride closer and closer to Chau Doc. The presence of Thot Not trees indicates the growing proximity to Cambodia and the local people speak Vietnamese as their second language. We cycle to the Killing Fields of Vietnam at Ba Chuc, where Pol Pot's regime massacred over 3,000 Vietnamese in 1978. We then loop around Ba Chuc along the border and ride the rest of the way to Chau Doc along incredible country roads. Those with energy to spare can climb Sam Mountain for sunset. Overnight at Chau Po Hotel.
Ride 90 km.
Day 5: Chau Doc – Phnom Penh (B/L/D)
Cruise up the Mekong River to Phnom Penh from our overnight stopping place Chau Doc. We get a chance to rest our legs as we see many scenes of local daily life along side one Asia's great rivers. As we head into Cambodia we stop at the capital Phnom Penh before heading north to cycle among 1000 years of Khmer history. Overnight at Frangipani Royal Palace Hotel.
Day 6: Phnom Penh – Oudong – Kampong Thom (B/L/D)
Today we have a late start to give you time to explore Phnom Penh. We then transfer for only 30 minutes before hop on the bikes and for our cycle towards Cambodia's former capital, Oudong The 400-plus steps to the top will get the legs working overtime, but the view is worth it! This ride gives us a chance to see rural Cambodia - stilted houses, rice paddies, ox carts, waving children and of course the friendly Khmer people. After the ride we transfer to Kampong Thom. Overnight at Sambor Village.
Ride 25 km.
Day 7: Kampong Thom – Siem Reap (B/L/D)
We start the day with a visit to the ancient temple site of Sambor Prey Kuk. This temple site was constructed in the 7th century and functioned as the capital of the Chenla Empire. It is one of the oldest temple sites in Cambodia and is mainly covered in vegetation. After our guide assisted tour through the temples we enjoy a local picnic lunch prepared by the local community in small wooden huts along the Stung Sen River and are able to absorb the local sights and sounds. After lunch we have a short transfer to Damdek village and ride on country roads, through rice paddy fields and small villages with many locals greeting you warmly to Siem Reap. Overnight at Steung Siem Reap Hotel.
Ride 40 km.
Day 8: Angkor Wat temples (B/L/D)
This morning we start our bike ride to the entrance of Angkor Wat and head to Ta Prohm, famous from the film Tomb Raider, and deliberately left by French conservationists in the same condition as it was discovered; overgrown by strangler fig and silk-cotton trees, giving the temple a mystical and romantic appeal. We continue to Angkor Thom, Bayon temple and the Terrace of the Elephants. We enjoy lunch at the Angkor Café before we explore the biggest religious Hindu edifice in the world - Angkor Wat. Considered the masterpiece of Khmer architecture, this Vishnuite temple is the King's funerary temple, which is why the temple is orientated to the West. Inside the temple the walls are covered by carvings and basreliefs depicting Hindu mythology and the wars Suryavarman II fought during his reign. After our visit to these magnificent temples we cycle back the 7 km to Siem Reap. Overnight at Steung Siem Reap Hotel.
Ride 30 km.
Day 9: Depart Siem Reap (B)
Catch a flight from Siem Reap airport or stay to explore more of Angkor's temples.
Price per person
Single Supplement
Bike Hire
There are no scheduled departures for this trip. But please send us an inquiry telling us when you'd like to go, how many people are in your group, and we'll get back to you shortly.
Included in the price:
• Accommodation as mentioned in the program (B = breakfast, L = lunch, D = dinner.)
• Meals as mentioned in the program
• Transfers and transport according to the program
• All entrance fees and tours as indicated in the program.
• Support vehicles to carry your luggage and provide a place for you to rest if you get tired
• Our staff will make any running repairs on your bike
• Water, fruit, soft drinks and snacks along the ride.
• Local English speaking guide
Not included in the price:
• Accommodation other than mentioned in the program
• Meals other than those mentioned in the program
• Visa arrangements
• International and domestic flights
• International departure tax if any
• Camera/video entrance fees
• Personal expenses (drinks, laundry, telephone, tips etc).
• Travel insurance
• Other services not clearly indicated in the package inclusions above.
Trip profile:
The road surfaces on this tour are mixed. We ride a combination of good quality tarmac, wide dirt tracks and broken roads that are sometimes badly potholed but easily navigable by bike. The terrain is predominantly flat. Only on a few days do we cover longer distances (92 km), so experienced riders will find the distances long enough to challenge them, while less experienced riders are easily able to travel at a more relaxed pace. On this trip there is a lot to see en route as we ride alongside rivers, villages, orchards and rice fields. We have two days when we travel by boat, giving variety and a chance for weary legs to recover.
Suitability:
This trip is suitable for anyone with a reasonable level of fitness. This trip is not too arduous, and so riders with less experience are more than welcome although the fitter you are the more you will enjoy it.
Biking Conditions:
This tour follows a mixture of good condition tarmac road to pot-holed or broken ones and vehicle-width dirt paths. No off road riding experience required. A support truck is almost always available to help when required, except on some parts of the very narrow paths of the Vietnam Delta. But you will always have your guides with you at all times.
Bikes:
Because some people can't imagine going on a trip without their own beloved bicycle, we do not provide them as part of this tour. However, you are able to hire bikes locally for the price listed on the front page of this document. The bikes are well-known makes of Hybrid or Mountain bikes (depending on the tour) with lightweight alloy frames, 24- to 27- speed gearing, v-brakes and Shimano components and front suspension. If you bring your own bike, please make sure it is a mountain bike, preferably with front suspension, and that it is in good mechanical order
Bike Repairs:
Basic spares and tools are carried by the guide and on the support vehicle, though we cannot guarantee having spares for every conceivable problem. Carrying a basic tool kit, a spare tube and a pump while riding is recommended.
Safety:
Wearing a helmet is compulsory on all our biking adventures. Your guide is trained in first aid and emergency rescue, but to a large degree you must be responsible for your own safety while riding. It is therefore compulsory that you take out travel insurance that will cover you for a mountain biking tour.
Support:
We will be supported by air-conditioned vehicle that have been specially modified for cycle tours. The vehicles follow us the whole time and are always available for tired cyclists. It is very easy to get bikes on and off, so you can rest when you are tired and cycle whenever you feel like it.
Guides:
You will be led by a local English-speaking guide and if the group is 8 people or more we will add another guide to the tour. All our guides are well informed in the history, culture and religions of the area where you are biking and are skilled at passing that knowledge on to you. Your guide is also medically trained and an experienced cyclist, able to handle most minor repairs enroute.
Arriving and Departing:
This tour begins in Ho Chi Minh City, Vietnam and ends in Siem Reap, Cambodia. International and domestic flights, to and from the start and finish points are not included in the tour price. Please contact us for advice before arranging flights for the best arrival and departure times.
Passports and Visas:
All nationalities require a valid passport. Vietnam: All nationalities require a visa in advance, (please ensure your passport is valid for at least 6 months from date of entry).
Cambodia: Visas can be obtained easily at any Cambodian Embassy around the world in advance and may avoid potential overcharging at some land crossings. If you do not have time or for some reason it is difficult to get a visa in advance, it is possible to get a visa on arrival at the Vietnam/Cambodian border at a cost of US$30 (please also bring two extra passport photos). There may be a small service charge of a few US$. An e-visa is not valid for overland crossings. If you have any queries or concerns regarding visa issues please do not hesitate to contact us.
Health:
Recommended vaccinations are typhoid, polio, tetanus and hepatitis A. A certificate for Yellow Fever is required when arriving from an infected area within six days. Please speak to your doctor for the most up to date information.
Weather:
The Mekong delta region of Vietnam has a tropical climate with seasons similar to Cambodia. January is one of the driest months with the average temperature in Saigon around 25˚C. Cambodia also have a tropical climate with fairly high humidity. There are three seasons: from March to June it is hot and dry, with temperatures between 27 and 40˚C, and with night temperatures in the 20s. The rainy season is from July to September, but temperatures are slightly lower, because of the effect of the rain. The cooler season is from October, to February, with average temperatures between 20 and 30˚C.
Food:
Meals are included as per the itinerary where B = breakfast, L = lunch, D = dinner. Most meals are local food and feature noodles, rice, curries and soups. Southeast Asia cuisine is world famous and we make sure you sample as much (Vietnamese and Cambodian dishes) as possible. Any special dietary requirements can also be catered for as well. Please let us know at the time of booking.
Drink:
Keeping you completely hydrated is a job we take very seriously. Cold water, some energy-restoring local fruit and soft drinks are included in the tour price while riding. Soft drinks and other beverages during meals are not included. But you may also want to bring electrolyte in powder or tablet form. Beer is freely available everywhere, but is NOT included in the price.
Solo Travellers:
We do not require you to pay a surcharge for travelling alone. We will arrange for you to share accommodation with another traveller of the same gender and if we can not match you up we will provide a single room at no extra charge. If you prefer not to share a single supplement is payable to guarantee your own room. The cost of the single supplement is listed above.
Extra Expenses:
We recommend that you tuck away a few extra dollars, perhaps US$10, for incidentals such as change to give to your country guides to cover tipping the baggage handlers at each hotel. This will save you a lot of unnecessary worries. It is also customary to tip local tour guides and drivers; however, the amount you give should be dependent on the level of service you receive. As a general guide we suggest that US$3-4 per person per day is appropriate.
Notes:
• The information in this document is given in good faith, and covers the average range of conditions likely to be found on this trip. Please note that the itinerary is subject to change due to unforeseen circumstances, however, we will always do our best to adhere to this original itinerary.
• In remote destinations abnormal conditions can prevail at any time, and all adventurous holidays can therefore be subject to unexpected change. Though we will do our best to adhere to the original itinerary, we cannot be held responsible for any last minute changes. This also applies to the hotels mentioned and any changes will be to another hotel of the same or higher standard. In order to enjoy your cycling holiday you should be prepared to be flexible when necessary.
• Our tours require only a minimum of 2 reservations to guarantee departure and are never larger than 16 people.
• We live in Asia and have thoroughly researched the routes to assure that you see the best scenery and ride the best terrain, be it on road or dirt.
• We have carefully chosen accommodation that is the best available for the location and offer a good mix, from home stays to luxurious lodges, on our tours.
• We love Asian cuisine, wellknown for being hot and spicy and for its use of fresh ingredients, and will make sure you get to sample lots of it.
• If these dates don't suit your travel schedule, please contact us to talk about operating a private tour or customizing a tour for you or your group.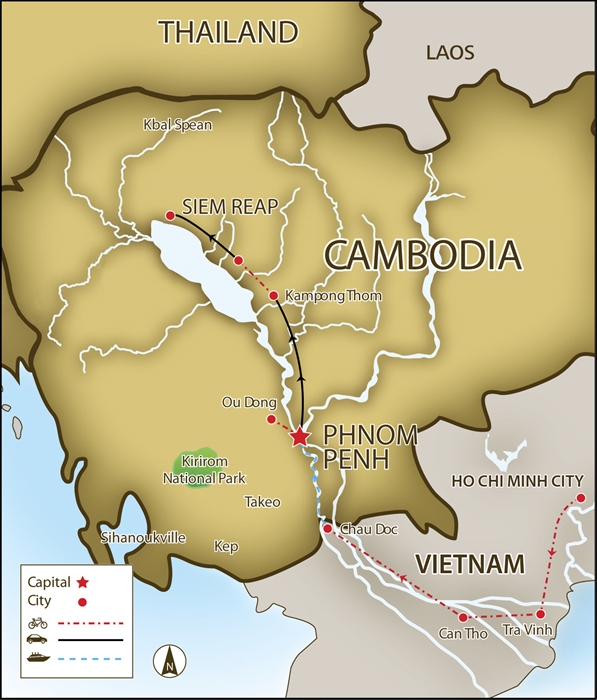 Email: Contact@insighttoasia.com
Phone: +66 856869402
Facebook: Insighttoasia