ACTIVE ADVENTURE IN NORTHERN THAILAND
Trek, bike and paddle through north Thailand on a truly epic adventure. Be fully immersed in the cultures and ruggedly beautiful landscapes that make this part of the world so unique. From start to finish, each day brings a new adventure and discovery of Thailand's remarkable wonders.
This trek, pedal and raft adventure heads on a journey through some of the most scenic, breath taking and exhilarating areas of Thailand. Start the adventure with trekking and experience the beautiful countryside of north Thailand and stay with a Karen hilltribe. Trek the foothills of Thailand's highest mountain, Doi Inthanon, walk through evergreen forest, before an optional day with the Karen people, live the life of a mahout, taking care of an elephant for a day.
Continue the adventure further north of Chiang Mai and cycle the foothills of Chiang Dao Mountain. Along the way, witness local Thai village life before kayaking the beautiful Mae Ngat Dam. End the adventure on a high note with an exhilarating two days of white water rafting and an overnight stay in a remote jungle camp surrounded by nature.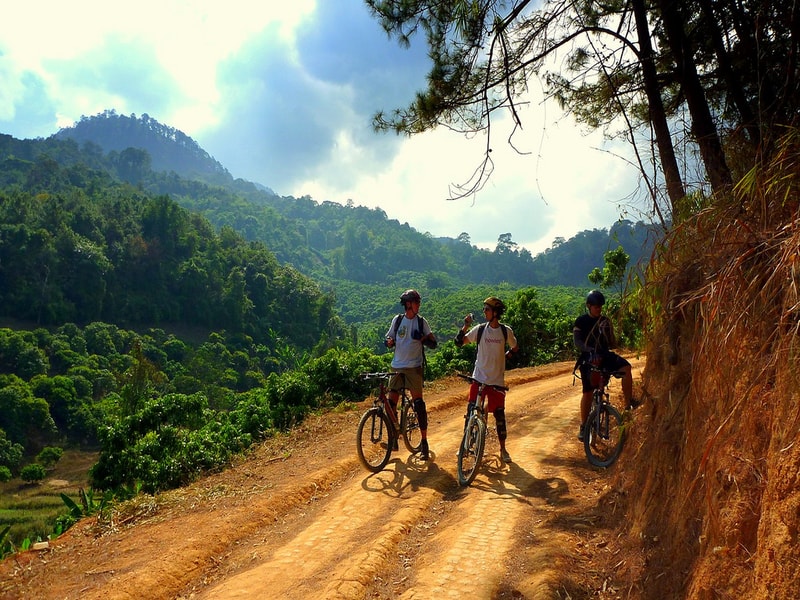 Immerse yourself into the Karen hilltribe culture
Trek in the north Thai hills, spending three days amongst the Karen hilltribe and learning about their ways of life.
White water rafting
Spend two days rafting the Class 3 & 4 rapids near Pai, staying overnight in a rural village homestay.
Cycle the countryside of northern Thailand
Depart Chiang Mai by bike and spend two days exploring the caves, countryside and picturesque villages of the north.
Day 1: Arrive Chiang Mai (D)
Upon arrival in Chiang Mai, meet with the guide and driver and transfer to the resort. After check in, the rest of the afternoon is free at leisure.
In the evening, meet the guide at the hotel and head out for a warm welcome dinner. While enjoying a fare of local northern Thai specialties, receive a briefing about the upcoming adventure. Afterwards, head fifteen minutes by foot across the Ping River and explore the Warorot Market. Here, get an up-close look at the unique culture of Chiang Mai. Then, return to the hotel and get packed for the upcoming four-day trekking and elephant adventure. Overnight at Banthai Village
(Please note: Guests will be returning to the same hotel on night 5, after the trek. Any clean clothes that won't be needed for the trekking portion of the program can be left in the hotel and picked up on your return)
Distance and journey time:
Transfer from Chiang Mai Airport to Baan Thai Village: 30 minutes
Day 2: Chiang Mai – Doi Lor – Khun Na Sa (Trek) (B/L/D)
Check out of the hotel and head out of Chiang Mai towards Doi Lor District, southwest of the city. Stop at the local market so that porters can pick up fresh locally-produced vegetables and meat for the trek. If this day falls on a Saturday we have an option to stop at the buffalo market in Hang Dong to watch a local livestock auction while stocking up on food.
Then, head to Huay Teun, a small stream running down Doi Lor Mountain. From here, start walking along the stream for an hour and enjoy a picnic lunch on the way. In the afternoon, the trekking becomes a little more strenuous, as we start gaining elevation on a trail used by locals. After a challenging couple of hours on the trail, take a rest at a hidden nameless waterfall in the middle of the jungle. Afterwards, head further up before arriving at Khun Na Sa for a home-cooked dinner and overnight stay under the charming hospitality of a local hilltribe family. Overnight in Khun Na San Village Homestay
Distance and journey time:
Transfer from Chiang Mai to Huay Teung: 2 hours
Trekking: 4-5 hours
Difficulty: Medium
Day 3: Khun Na Sa – Khun Puay (Trek) (B/L/D)
After a home-cooked breakfast, pack up and head out for another day of adventure. Start walking through the evergreen forest with the occasional ray of sun streaming through thick lush green vegetation. There are two trails on this day, a shorter easier walk of 4 to 5 hours and a longer more challenging 7 to 8 hour trail which holds the reward of a waterfall on the way! Both trails provide excellent opportunities to spot wildlife, especially birds which are abundant in this area -so binoculars are a good thing to bring!
Lunch will be a jungle-style picnic. Afterwards, make one last push to Ban Khun Puay, a Karen hilltribe village of 70 families. Spend some time to get acquainted with the people in the village learn about their culture and lives. At dinner time, spend the evening as locals do: with a session of vocal storytelling! Afterwards, tuck in early for a well-deserved night of rest. The hilltribe village is nestled deep in a secluded valley, so dozing off to sleep tonight will be accompanied by little more than the chorus of nature. Overnight in Khun Puay Village Homestay
Distance and journey time:
Trekking: 4 to 8 hours
Difficulty: Hard
Day 4: Khun Puay – Mae Win (Trek) (B/L/D)
After breakfast in the morning, say goodbye to the charming locals of the Karen village and start trekking back down the mountain. Just north of Doi Inthanon National Park, stop by another waterfall and then trek to the pickup point for a transfer to Mae Win. Lunch will be served jungle-style en route before taking a short final trek to the finishing point and transferring to a local guest house for the night. Overnight at a local guesthouse in Mae Win
(Please note: Homestay Accommodation throughout the trek. Tonight's accommodation is based on basic lodging with Fan only. Please consider that, during the hot season of March-June, it can be hot even at night).
Distance and journey time:
Transfer from Khun Puay to Maewin: 30 mins
Trekking: 4-5 hours
Difficulty: Medium
Day 5: Mae Win - Gachorgwa Elephant Camp (B/L/D)
After breakfast in the morning, transfer to Gachorgwa Elephant Camp. The Elephant Wisdom Inherit Project was established with the intention of improving the quality of life for both elephants and their mahouts, taking into consideration the important relationship between them. Elephants often serve more as a family member to the mahouts than as a 'pet'. The project was also founded with the intent of acquiring and preserving traditional Karen wisdom on the care of elephants.
Throughout the day, experience the life of a mahout, learning how to approach elephants in the bush, as well as how to unchain, feed, and bathe them. Once the elephant is ready, enjoy an exciting one-hour bareback ride through rice paddy fields to a waterfall where a picnic lunch is served in the jungle. After riding back to the farm, say goodbye to the new pachyderm friend before transferring to Chiang Mai. On arrival, bikes will be waiting for a quick spin around the local area to make sure they are fitted properly for an upcoming three-day cycling adventure.
In the evening, meet with the guide for another foray into the nightlife of Chiang Mai Old City. Head to a scrumptious traditional Northern Thai dinner and receive a briefing on the cycling adventure ahead. Overnight at Banthai Village
Distance and journey time:
Transfer from Maewin Guesthouse to Gachorgwa Elephant Camp (17km) : 45 mins.
Transfer from Gachorgwa Elephant Camp to Chiang Mai Hotel 2 hrs
Activity at Gachorgwa Elephant Camp – 6 hours
Day 6: Chiang Mai – Chiang Dao (Cycle) (B/L/D)
Rising early in the morning, meet with the guide after breakfast and receive a short transfer to the outskirts of Chiang Mai, the starting point of the day's cycling adventure. Start by heading through some local villages, a great chance to see old-fashioned village life. Stop for a lunch break in a local restaurant near the Mae Kuang Dam. At the Dam, board a longtail boat and head across the lake.
On the other side of the lake, continue cycling on back roads to Bua Tong Waterfall, also known as the 'Sticky Waterfall'. Finish the day climbing this gorgeous limestone waterfall and then head to the hotel for check in and spend the rest of the evening for a relaxing in Chiang Dao. Transfer and overnight in Chiang Dao at Marissa Resort
(Cycling Terrain: The cycling route will be on mixed terrain for the next 3 days. The majority of the route will be on well-maintained tarmac roads. However, those who prefer off-road trails can cycle on quiet back roads, trails and through rice paddies instead. The distance should remain about the same, but the mixed terrain will take longer than expected.)
Difficulty and journey time:
Transfer from Chiang Mai to Mae Jo: 1 hour
Transfer from Bua Tong Waterfall to Chiang Dao – 1 hour
Cycling distance up to: 40 km
Difficulty: Easy
Day 7: Chiang Dao – Mae Tang (Cycle) (B/L/D)
After breakfast, check out and start of a 50 km cycling journey through the beautiful Chiang Dao Valley. While soaking up some of the area's spectacular scenery, ride along picture-perfect rural through charming rural villages. Stop at Chiang Dao caves, a limestone cave complex consisting of over 100 caves. Explore some of these caves and then stop for lunch at a local restaurant nearby. Then continue riding south out of Chiang Dao to a pickup point where we are transferred the rest of the way to Mae Taeng, the resting point for the evening. Check into and have dinner at the hotel, then spend the rest of the evening at leisure, being sure to rest up for another full day of cycling ahead. Overnight at Royal Ping Garden Resort
Distance and journey time:
Transfer to Mae Taeng: 1 hour
Cycling distance up to: 55km
Difficulty: Medium
Day 8: Mae Tang – Mae Ngat Dam (Cycle) (B/L/D)
Rising early in the morning, take breakfast and then head out from the resort along the picturesque back roads to Mae Ngat Dam. Along the way, visit Wat Ban Den, one of the largest temple complexes in Chiang Mai. Although the structures of the temple are relatively new, they are built in traditional architectural style and make a spectacular backdrop for photos. On arrival at Mae Ngat Dam, leave the bikes and change gear -off the road and into the water we go! Take a 20-minute boat transfer to a floating restaurant on the lake for lunch.
Spend the rest of the afternoon at the rafthouse, either swimming or kayaking, before receiving a longtail boat ride and short transfer to a guesthouse near Mae Ngat Dam. Check in, have dinner and spend the rest of the evening at leisure. Overnight at Ban Phraya Lanna Rimnam
Distance and journey time
Cycling distance up to: 40kms
Kayaking: 2 hrs
Difficulty: Easy
Day 9: Chiang Mai – Pai (Pai Canyon and Tham Lod Caves) (B/L/D)
Rise early and depart Sri Lanna National Park for a journey to Pai. The windy road heads high into the mountains, with several viewpoints en route. After about three hours into the road trip, stop at Pai Canyon -one of the area's most astounding natural wonders. Over millennia, the canyon has been carved out from the valley through erosion, leaving behind unusual 30-metre tall narrow ridges which snake their way around the densely forested valley. Topped with hiking trails, these ridges resemble the Great Wall of China -although they're totally natural! Spend a few hours hiking around this 'wall' before heading back to the vehicle for a 30-minute transfer to Pai for an early lunch.
Afterwards, depart in the afternoon for Tham Lod, a cave that's well-known for the prehistoric artefacts that were found there. The cave is beautifully decorated with stalagmites and stalactites. Take a bamboo raft to explore the cave. Lunch is provided at a local restaurant. Then visit Tham Pla or 'Fish Cave'. This cave has a small natural pool originating from a subterranean stream and is home fish that are up to a meter long. Take some time to feed them. Then, if time permits, head to the stunning Pha Sua Waterfall before transferring back to Pai for the evening. Dinner and overnight at Pai. Overnight at Baan Krating Pai Resort
Distance and journey time:
Transfer from Sri Lanna NP to Pai Canyon: (100km) 2.5hours
Transfer from Pai Canyon to Tham Lod Caves: (60km) 1.5hours
Transfer from Tham Lod to Ban Krating Pai: (60km) 1.5 hours
Activity 5-6 hours
Difficulty: Easy
Day 10: Pai – Kaeng Hom (White Water Rafting) (B/L/D)
After breakfast in the morning, get picked up from the hotel in Pai and transfer to a rafting camp. Here, try out some of the gear and receive a safety briefing before taking a one-hour pickup ride to the starting point of an amazing rafting adventure. Launch the boats into the river south of Pai and then paddle downstream through thick tropical jungle. Stop for a hearty lunch along the river banks and prepare for things to get a bit more intense -the rapids are ahead!
After lunch, the river crosses through a gorge, funneling the relatively lazy waters into class 3 and 4 rapids. After an incredibly fun but intense pass, the river settles a bit as we pass a mine and some hot springs. After another 15 rapids, arrive at a waterfall for some time to relax on the riverbank or play some water games. Then, head through the twists and turns of the final portion of the river trip before arriving at the jungle camp around dusk. At the camp, freshen up with a shower and then spend the rest of the evening relaxing with the other camp visitors while enjoying a welcome drink and dinner. Overnight in tent or bamboo hut in jungle camp
(Please note: The white water rafting section of the program can only run when the water levels are high from July to January. Blackout is from February to June. The class of rapids will depend on the time of year, with water levels at their highest in August and September)
Distance and journey time:
Transfer from hotel in Pai to rafting camp: 1 hour
Rafting up to: 4 hours
Difficulty: Medium
Day 11: Kaeng Hom – Mae Hong Son (Rafting) (B/L)
After a steady homemade breakfast with freshly brewed coffee, pack up, get into a boat and once again enter the stream for an action packed day on the river. Raft through a number of rapids as the river takes us west, passing the Khong River junction and stopping for a break at an area with hot springs. Up next is the Rising Stone Rapids, a set of grade 2-3 rapids ranging from 100 to 400 meters. To refill the energy depots, break at the river bank for a picnic lunch. After a few more rapids and some calmer water, the landscape changes and small villages and farmlands pops up.
A little bit further down the river the adventure on the river ends, at the tip of Namtok Mae Surin National Park. Luggage will be delivered at this point. Continue to Mae Hong Son for overnight in the natural settings of the Fern Resort. Dinner and overnight at Fern Resort
Distance and journey time
Transfer from Mae Hong Son to Fern Resort: 20 mins
Rafting up to: 5 hours
Difficulty: Medium
Day 12: Mae Hong Son (B)
In the morning, enjoy a leisurely breakfast in the backdrop of nature at the resort before continuing you journey either in Mae Hong Son or transfer back to Chiang Mai.
Price in Thai Baht from 01 may 2017 - 31 mar 2018
Pr person in double room                      7495,-
Single supplement                                 10995,-
Our services include:
English Speaking certified Adventure Guide
Additional local guide for 8-15 pax
Drinking water including 3 litres per person per day during activity
Bountiful snacks and local fruits
Waterproof bag for Rafting
1 x Rafting guide for every 4-6 people in a boat
1 x Porter for every 2 pax (Pax can offload 10kg to each porter. Sleeping bag, Mat and a dry 1 x 7kg dry bag of clothes)
All equipment including Bike, Kayak, Raft, helmet, life vest and paddle.
Water Bottle for cycling portion
All camping equipment
1 first aid kit per guide
Sightseeing tickets and zone entrance fees where mentioned in the itinerary
Flight reconfirmations
Luggage transfer
Meals as mentioned in the itinerary (B – Breakfast, L – Lunch, D – Dinner)
Basic homestay accommodation with local breakfast
Tours and transfers by private air-conditioned vehicles
Tips for Porters, driver and Restaurant staff included.
Welcome Gift
Our services don't include:
Visa arrangement
International and domestic flights
Soft drinks, or beverages beyond water
Beverage and alcoholic drinks at mealtimes
Meals other than mentioned above
Supplement for other language guides
Tips for Main guides
Energy drinks or powders, performance bars, or performance gels (Gatorade, Powerbars, Gu, Isostar, etc)
Personal Travel Insurance
Personal expenditure (laundry, telephone etc.)
Credit card/bank transfer fees
Any other services not clearly mentioned in the itinerary and in the inclusive portion
Supplement for other language speaking guides
Rafting:
The rafting requires basic physical condition and participants should have the ability to swim.
No previous experience rafting required.
Rapids Maximum Grade 3
Annual blackout period 15 February to 15 June. (depending on rainfall this blackout can vary in dates)
Your main luggage can be left at the camp and delivered to you again on day 2 in Mae Hong Son.
Trekking and Cycling:
Due to the remote nature of your trek and cycling program the accommodation will be basic
An option to upgrade accommodation will be in main cities throughout the program so subject to availability.
Important notes:
• Reservations during peak times (Christmas, New Year, Vietnamese Lunar New Year, National Holidays) may be subject to peak season surcharges and surcharges for compulsory Gala dinners on 24th and 31st december.
• Rooms at hotels are available only from 1400 on arrival day till 1200 on departure date. A supplement will be added if early check-in or late check-out is desired.
• Please note that all the above services & package tours have not been booked yet, they are proposed for your information only. We will not begin any reservation before we receive your confirmation.
• If one or some proposed service(s) is (are) not available at the time of booking, we will try to arrange similar service(s) in order to avoid as many important changes as possible.
• The itinerary may at times be altered by our guides due to local conditions, the skill of participants and other unexpected circumstances. Our priority is always the experience and safety of our clients.
Email: Contact@insighttoasia.com
Phone: +66 856869402
Facebook: Insighttoasia