On our Essential Thailand Tour, you will experience a land of rich history, incredible culture, friendly people and some of the world's best food. See the country's iconic sites and experience deep-rooted traditions while exploring Bangkok, Chiang Mai and the lands in-between. Then travel south to Phuket for some seaside. For first time visitors, our Essential Thailand Tour is the ultimate tour for discovering the diverse culture and scenery of the country. This tour is full of in-depth excursions to the main sites of Thailand as well as unique, often hidden locations.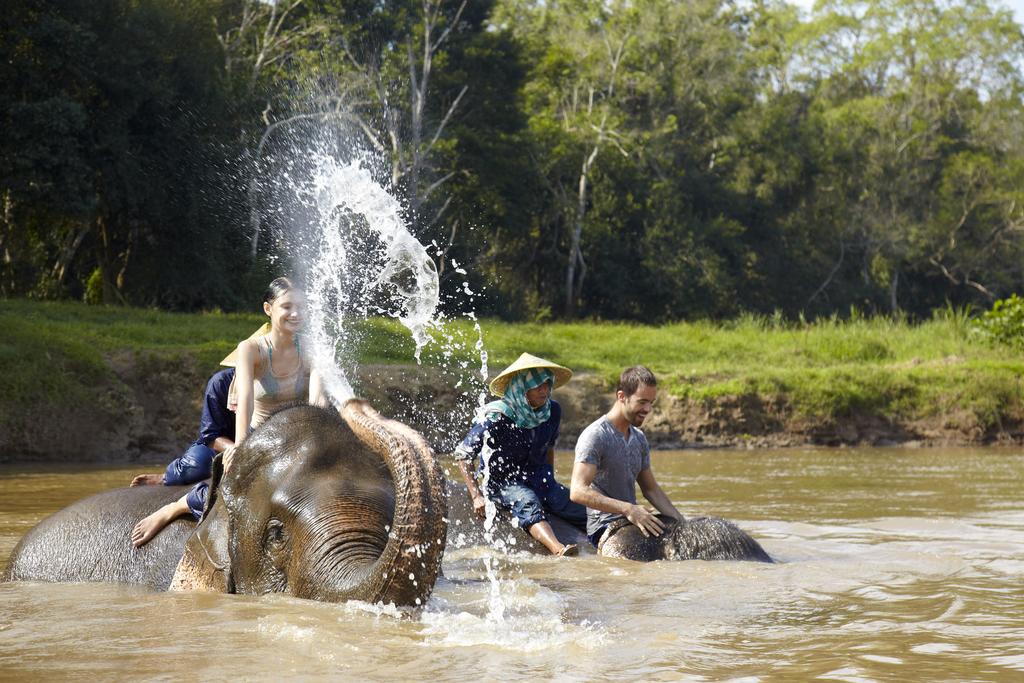 Get an in-depth look at Bangkok
Explore the capital and its surroundings, visiting local neighbourhoods, small villages and floating markets steeped in tradition.
Visit Mae Kampong village
Explore the farms and fields of Mae Kampong and meet with the locals to learn about their typical rural lifestyles.
Explore authentic Phuket
Meet with the Moken sea gypsies, explore Muslim neighbourhoods and slurp Chinese-style noodles with an in-depth Phuket excursion.
Day 1: Arrival in Bangkok
Upon arrival in Bangkok, meet with your guide and transfer to the hotel. Rest of the day at leisure
Optional evening tour: Glittering Bangkok
Begin this Bangkok evening tour just as the sun begins to set, around 18:00. Bangkok, a city known for its bustling streets and vibrant atmosphere, is a place that truly comes to life after dark. The sights, sounds and smells associated with the city's iconic street life are amplified under the glow of its streetlights. Meanwhile, as the late afternoon light gives way to the glimmer of the early evening, the city's ancient temples and palaces take on a whole new beauty. Transportation will be provided to the Rattanakosin area of the old city, meandering along the past the floodlit Grand Palace and Wat Pho.
After a cool, relaxing cocktail at the boutique, riverside Riva Arun hotel, take a short walk to where an exquisite dinner awaits. Indulge in a delicious, Thai-style meal on the banks of the Chao Phraya River, with the majestic Wat Arun acting as the backdrop. Following dinner, take a stroll to the temple grounds of Wat Pho to soak up the beauty of its glittering chedi at night: an incredible photo opportunity. Please note: the Reclining Buddha is not open at night.
Afterwards, drive to the final stop of the evening, the bustling Khao San Road area. A famous backpackers haunt, this eclectic region comes to life at night with various activities, night markets and entertainment venues to choose from. Enjoy a wander through the streets of Khao San to experience the unmistakable energy of this area.
Time: 18:00 – 22:00
Note:
• Reclining Buddha is not open at night.
• Children between 2 and 11 years at the time of travel will receive a 15% discount.
• One glass of cocktail included.
Overnight at The Siam Heritage
Distance and journey time:
Bangkok Suvarnabhumi Airport - Bangkok city (approx. 40 km): 40 min
Day 2: Bangkok - Sightseeing (B/L)
An early start will get you to Wat Pho in time to experience the monks early morning chanting ritual (chanting starts at 09.00 Hrs). After this uplifting and often private experience, visit the temple grounds and the famous 45-metre reclining Buddha. Continue to The Grand Palace, Thailand's most important landmark, where you will be awed by the grandeur and majesty of the building and its throne halls. Then, of course, marvel at the mysterious Emerald Buddha, the most revered Buddha image in Thailand. Delicious lunch is served at the delightful Never Ending Summer, a Thai rustic restaurant, situated by Chao Phraya River.
After lunch, board a long-tail boat sailing up the majestic Chao Phraya river before entering the Khlong that takes us away from the normal tourist trail. Inside the network of Khlongs guest will stop at Wat Khun Chan which is an interesting temple area rarely visited by tourists. Crossing a small footbridge leads into the old alleys where a cold coffee can be enjoyed before entering Wat Paknam or the white stupa with a hidden museum.
Back in the boat and continue on a beautiful part of the Khlong with a mix of old wooden houses and new modern mansions until reaching an orchid and fruit farm where guest will have time to walk around and see the many types of orchids on display. On the way back to Saphan Taksin pier, a stop will be made to feed the holy catfish in the Khlong. Overnight at The Siam Heritage
Day 3: Bangkok - Countryside Tour (B/L)
After breakfast at the hotel, take just a short drive from the bustling streets of Bangkok, the high-rise urban landscape dissolves into a lush green rural idyll. This full-day trip to Samut Songkhram Province, only an hour outside the capital, allows guests to experience the traditional charms of the Thai countryside.
The day starts with a trip to a local railway station where a bustling country market has sprouted up along the tracks. When a train pulls in or out of the station, the vendors quickly clear their stalls, only to set them up again moments later when the train has passed! From here, the journey continues to very famous touristic Damnoen Saduak Floating Market. Although quite touristy today, the market remains the best example to showcase how a floating market originally was like decades ago. A relaxing paddle boat ride through the labyrinth of canals offer the chance to see the old part of the floating market and local lifestyle along the canal side. Off the boat, it is time to enjoy strolling around the colourful floating marketplace bustling with boats and vendors selling tropical fruits and other delights.
For visits falling on a Saturday or Sunday, the tour offers the option of an exploration choosing between visiting Damnoen Saduak or the smaller and less touristy floating market Tha Kha where a short paddle boat tour in the backwaters offering a visit to an old Thai house making coconut palm sugar. Lunch will be enjoyed at a local restaurant at the floating market. The tour continues by a long-tail boat to a local Buddhist temple and the King Rama II Memorial Park, with its ornate collection of Thai-style pavilions. For visits falling on a Friday, Saturday or Sunday, the end of the tour will be spiced up with an exploration of the weekend floating market at Amphawa. Overnight at The Siam Heritage
Distance and journey time:
Bangkok – Samut Songkhram (approx. 80 km): 1 hr
Mae Klong Market – Tha Kha Floating Market (9.3 km): 21 min
Tha Kha Floating Market – Amphawa District (9.3 km): 17 min
Day 4: Bangkok – Ayutthaya – Bangkok (B/L)
Breakfast at the hotel. The day then begins with approximately one hour and a half drive from Bangkok to the UNESCO World Heritage-listed city of Ayutthaya, passing through verdant countryside and lush paddy fields. Having arrived in Ayutthaya, which dates back to the 14th Century, the morning is spent exploring the breathtaking temple-studded landscape visiting the highlighted temples of the city from Wat Yai Chaimongkol, Wat Mahathat (where the Buddha face is naturally emerged out of the tree), and strolling through a local market to get to Wat Phra Srisanphet. Proceed on a trip to the town's Muslim Quarter which offers the opportunity to sample an unusual local delicacy, candy floss roti.
After lunch at a local restaurant, the tour continues with a leisurely one hour long-tail boat ride down the Chao Phraya River. This boat trip commences at Wat Niwet Thammaprawat, one of the area's most distinctive Buddhist temples, featuring remarkable Gothic-style architecture and stained glass windows. Then take the cable car across the river and go by golf car to visit Bang Pa-In Summer Palace, the majestic mansions of Thailand's Royal family. When visit is done at Bang Pa-In, you return to Bangkok by van, approximately one hour drive. Overnight at The Siam Heritage
Distance and journey time:
Bangkok – Ayutthaya (83.3 km): 1.03 hr
Ayutthaya Historical Park – Bang Pa-In Summer Palace (21.9 km): 28 min
Day 5: Bangkok – Chiang Mai (B)
Transfer to airport with your guide (time to be confirmed the day before) for your flight to the northern capital of Thailand "Chiang Mai". Upon arrival in Chiang Mai, you will be met and greeted by your guide for your transfer to your hotel.
After checking in at the hotel, travel thirty minutes by vehicle north of Chiang Mai city to a long-tail boat dock, where you will take a leisurely stroll around the grounds with a herbal garden. Then board a long-tail boat and enjoy a 30-minute cruise along the rural Mae Ping River. Along the river banks, you will see traditional wooden houses and modern residences. Arrive at a boat landing and walk for about 10 minutes from the landing to Waroros fresh food market for a visit, experiencing the Northern Thai way of life. After the tour, transfer back to your hotel or to one of the restaurants for our own dinner. Overnight at Banthai Village
Distance and journey time:
Chiang Mai Airport – Chiang Mai Town (4.7 km): 10 min
Day 6: Chiang Mai (B/L)
After breakfast at the hotel, head towards Elephant Discovery Camp, passing the most beautiful route of Chiang Mai with fantastic local road and panoramic views. Upon arrival at the camp, you will receive instructions of the basic Elephant training from experienced trainers, use what you have learned to bond with your elephants and interact with them under the supervision of the trainer. Enjoy feeding, mud bathing and soaking up with your own elephant. Lunch at the camp. After lunch, enjoy bareback riding passing the natural scenery of the hill. (Note: The elephant activity is join-in.). In the late afternoon, return back to Chiang Mai. Overnight at Banthai Village
Distance and journey time:
Chiang Mai City – Chiang Dao (70.9 km): 1.04 hr
Day 7: Chiang Mai (B/L)
Depart your hotel at 06.00 am (Note: Take away breakfast from the hotel) and arrive at the foot hill of Doi Suthep mountain, in time to buy offerings and join the locals during the daily alms giving ceremony. This is a serene Buddhist procession where dozens of monks walk barefoot through the street collecting food and everyday items. Continue up the mountain to Wat Doi Suthep and climb the 309 steps of the Golden Naga staircase to reach its golden pagodas. After a visit to Doi Suthep, continue to discover one of the best-kept secret temples of Chiang Mai, Wat Palad, known as the Temple below the Temple. This temple is a significant element of the Chiang Mai area's history with its temple grounds aged beyond 650 years old.
Next, proceed to Wat Umong, built in the 14th century, a heavily forested temple covered by moss and small plants offering a unique yet charming sense of natural decay. After a walk through its mysterious tunnels you reach the Viharn of the temple to experience your own private blessing ceremony. After that, enjoy this lovely day with a delicious bowl of Khao Soy. This famous Northern Thai dish is a combination of coconut cream, crispy noodles and plenty of spice that is sure to delight!
In the afternoon, continue to visit the Three Kings Monument, followed by Chiang Mai City Arts and Culture Center, located in an old building of elegant architectural design built in 1927. Standing on the location of a former royal hall, the building was used as the central administrative office of Phayap administrative unit of Siam, and later as the Provincial Hall of Chiang Mai. (Note: Chiang Mai City Arts and Culture Center is closed on Mondays and during Songkran festival. Open from Tuesdays – Sundays: 08:30 – 17:00). Overnight at Banthai Village
Distance and journey time:
Chiang Mai City – Wat Phra That Doi Suthep (17.2 km): 39 min
Wat Phra That Doi Suthep – Wat Umong (14.9 km): 33 min
Day 8: Chiang Mai – Mae Kampong (B/L)
Depart for Mae Kampong village in the Mae On district and drive through the picturesque countryside of Chiang Mai. En route a stop is made at a local market to select ingredients for your lunch. Continue to Mae Kampong village, where you are met upon arrival by villagers, before beginning a stroll through the community forest, passing tea and coffee fields. Return to the village in time to watch lunch being prepared by your host family and see how Thai food is prepared in the countryside. After lunch, relax with Thai traditional massage and take a walk around the village, to see the processing of fermented tea leaves, and various products which are handmade in the village. In the late afternoon, drive back through the mountains to Chiang Mai. Overnight at Banthai Village
Distance and journey time:
Chiang Mai City – Mae On District (31.8 km): 44 min
Day 9: Chiang Mai – Phuket (B)
Free at leisure in Chiang Mai city until the guide picks you up from the hotel and transfer to the airport for your flight to Phuket. Upon arrival, meet up with your guide and transfer to your hotel. Rest of the day at leisure to relax on the beach. Overnight at Sunsuri
Distance and journey time:
Phuket Airport – Phuket Town (32.5 km): 30 min
Day 10: Phuket – Sightseeing (B)
On this Phuket day trip, you will discover the diverse communities inhabiting the south of Thailand. Your Multicultural Phuket tour will begin on Siray Island, home to the Moken people, also known as the sea gypsies, and animist community whom live solely off fishing. Around 25% of Phuket's residents are Muslim and based around the east coast of the island. Before visiting one of its most representative villages and mosques of the island, you will stop to try the famous Roti and Copi (a local coffee and a sweet).
In the Kathu district, home to the oldest Chinese shrine on Phuket Island, you will discover the remnants of the tin mining industry that brought the Chinese migrants to Phuket in the 18th century. Finally, the day ends with some local cuisine, a favourite of the local people: Hokkien Noodle soup. The rest of the day at leisure to relax on the beach. Overnight at Sunsuri
Day 11: Phuket (B)
Day at leisure to relax on the beach or go on a exiting excursion.
Optional tour: Phuket Old Town E-Bike Tour.
Today's tour will begin at either 08:30 or 13:00. Explore the old town on this electric bike tour of Phuket. These battery-powered bicycles are the perfect way to cruise around the city's streets and small laneways. Learn about the island's past while exploring different architectural styles. See former Chinese schools that are repurposed into museums and restaurants as well as Chinese shrines. Pedal to Sino-Portuguese buildings that stand in testimony to the influence of the migrants who came to Phuket during the tin mining days of the 19th century. See the home of the island's former governor, a majestic building that echoes of its glorious past.
Take a closer look at the past with a visit to Thavorn Museum. Located in the hotel of the same name, this museum boasts an impressive collection of old calculators, typewriters, tin toys and more. Seeing these relics gives a better sense of what life was like on Phuket in earlier times. The electric-bike exploration culminates with a visit to a downtown fruit market. Explore the array of exotic tropical fruits on sale and sample some of the fresh seasonal items before transferring back to the hotel.
Time: 08.30 – 11.30 / 13.00 – 16.00
Note:
• Max. 4 persons
• When booked please provide height of each client as this information is essential to secure the right bike size for the trip.
Overnight at Sunsuri
Day 12: Departure from Phuket (B)
Your guide will meet up with you at the hotel and transfer you to the airport for your departure flight to your onwards destination.
Distance and journey time:
Phuket Hotel – Phuket Town (between 20 and 50 km): 20 - 50 min
Price in Thai Baht from 01 may 2017 - 31 oct 2017
Pr person in double room                    59695,-
Single supplement                                 18195,-
Price in Thai Baht from 31 oct 2017 to 30 apr 2018
Pr person in double room                    63295-
Single supplement                                 21350,-
Our services include:
• Accommodation in selected hotels.
• Meals as mentioned (B= Breakfast, L= Lunch, D= Dinner).
• English speaking guide.
• Tours and transfers as mentioned by private air conditioned vehicle.
• Join elephant activity on Day 6
• Entrance fees for mentioned visits.
• Tips for driver and hotel porters
• Drinking water and cold towel
Our services do not include:
• Other meals than mentioned.
• Other services than mentioned.
• International and domestic flights.
• Laundry, telephone calls and expenditure of a personal nature.
• Tips for guide, travel insurance.
Optional tours:
Day 1: Glittering Bangkok, thb 5395,- pr person (min 2 pax)
Day 11: Phuket Old Town E-Bike, thb 4150,- pr person (min 2 pax)
Important notes:
• Reservations during peak times (Christmas, New Year, Vietnamese Lunar New Year, National Holidays) may be subject to peak season surcharges and surcharges for compulsory Gala dinners on 24th and 31st december.
• Rooms at hotels are available only from 1400 on arrival day till 1200 on departure date. A supplement will be added if early check-in or late check-out is desired.
• Please note that all the above services & package tours have not been booked yet, they are proposed for your information only. We will not begin any reservation before we receive your confirmation.
• If one or some proposed service(s) is (are) not available at the time of booking, we will try to arrange similar service(s) in order to avoid as many important changes as possible.
• The itinerary may at times be altered by our guides due to local conditions, the skill of participants and other unexpected circumstances. Our priority is always the experience and safety of our clients.
Email: Contact@insighttoasia.com
Phone: +66 856869402
Facebook: Insighttoasia