HIDDEN GEMS OF SOUTH THAILAND
Step off the beaten track and discover the fairy tale landscapes of Southern Thailand. Spot rare pink dolphins, explore ancient temple ruins, deserted beaches and hike through the dense forests of Khao Sok National Park. Connect with Thailand's rich culture and embrace the country's natural beauty.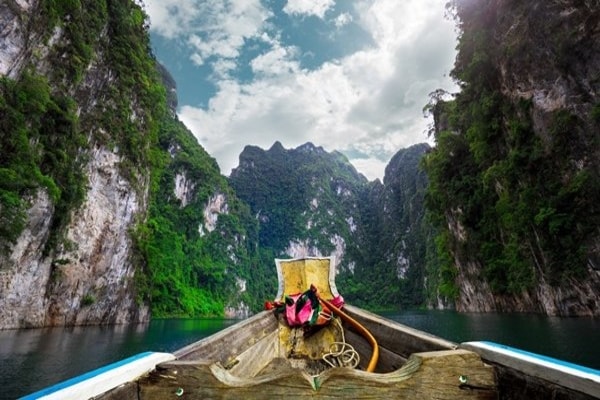 Explore hidden temples
Visit Surat Thani and Nakhon Si Thammarat's ancient temples, important pilgrimage sites for Thai Buddhists.
Experience exotic wildlife
Seek out elusive 'pink' dolphins at sea and trek through Khao Sok's jungle looking for exotic birds, monkeys and lizards.
Interact with the local communities
Spend a day in Koh Yao Noi, meeting with friendly locals and learning about their traditional ways of life.
Day 1: Surat Thani – Khanom (B)
Upon arrival at Surat Thani Airport, be picked up and transferred to Khanom. Via a short sightseeing tour in Surat Thani, visit Phra Borom That Chaiya, an ancient chedi housing Buddhist relics which are highly revered by local residents. This beautifully restored temple serves as a fine example of architecture dating back some 1,200 years to a time when both southern Thailand and Malaysia were under the influence of the mysterious, but powerful, Srivijaya Kingdom, whose seat of power was based in Java, Indonesia. Along the courtyard of the chedi are several beautiful sculptures and Buddha images. Continue to Khanom. Overnight at Aave Resort
Distances and journey time:
Surat Thani – Khanom (76.5 km): 1.11 hr
Day 2: Khanom – Nakhon Si Thammarat (B/L)
After breakfast at the hotel, be picked up for a full-day tour of Khanom and Nakhon Si Thammarat. The morning trip starts with a longtail boat ride to Ao Taled where, with a bit of luck, there's a chance to see rare pink dolphins that call the area home (spotting dolphins depends on the weather condition also). Then proceed with the cruise to see the layered mountain of Khao Papba. a geologic marvel similar to the Pancake Rocks in New Zealand. Also see an area where freshwater seeps up from the bottom of the sea -believed to be the place where a legendary Buddhist monk stood in the sea and transformed ocean water into fresh drinking water. Lunch at a local restaurant on the mainland.
In the afternoon, drive to the city of Nakhon Si Thammarat and visit one of the most revered and largest Buddhist temples in the south, Wat Mahathat, which houses relics of Buddha brought from Sri Lanka more than a thousand years ago. Continue to the Shadow Puppet Museum (Nang Talung) of Suchart Subsin for a chance to meet the legendary Puppet Master, who is happy to give a brief shadow puppet play. In his house is a small museum displaying his masterpieces and a welcoming living hall where his family members demonstrate and explain how to make puppets. Overnight at Aava Resort
Distances and journey time:
Khanom – Nakhon Si Thammarat (102 km): 1.30 hr
Day 3: Khanom – Anurak Community Lodge (Khao Sok) (B/D)
Breakfast at the hotel, check out and depart for Khao Sok National Park. Arrive in the afternoon and, after a short briefing, start hiking up the main trail in Khao Sok. This trail winds through enormous bamboo groves, old growth trees and strangler figs. With a bit of luck we might see dusky langurs, long-tail macaques, hornbills, small lizards and more.
We hike at a leisurely pace, taking short breaks from time to time, so that anyone reasonably fit can enjoy this hike. From time to time we get off the main track and go down across hiking trails towards the Sok River, if there's enough water it's even possible go for a refreshing dip. Keep in mind that the trails are very basic; be prepared to climb across rocks and tree trunks occasionally! Once back in the ranger station at Bang Hua Red we stop for a cold drink. After this relaxing break we follow the main dirt track back to the park headquarters. Return to Anurak Community Lodge between 16:30 and 17:30. Overnight at Anurak Community Lodge.
Distances and journey time:
Khanom – Khao Sok (184 km): 2.36 hr
Day 4: Anurak Community Lodge (Khao Sok) (B/L/D)
Enjoy breakfast at the hotel surrounded by nature and prepare for an amazing day ahead. Start the day with a trip around Chiew Lan Lake by longtail boat. After a 40-minute transfer from the hotel, arrive at the pier and receive a briefing from the local guide. Then, head out and explore the lake's emerald-green waters for an unforgettable experience of cruising around the area's towering jungle-clad karst formations. Along the way, keep an eye peeled for some of the area's exotic wildlife. With even just a bit of luck, visitors have a good chance to see langurs, gibbons, wild elephants and more. Depending on weather conditions, the guide will also lead a hike up to a cave or viewpoint for some breathtaking views of the area.
After lunch, head to a floating raft house on the lake for an opportunity to swim while surrounded by Khao Sok's most spectacular scenery. Afterwards, return to the lodge between 17:30 and 18:30. Overnight at Anurak Community Lodge.
Day 5: Anurak Community Lodge (Khao Sok) – Phuket – Koh Yao Noi (B/L)
Breakfast at the hotel. In the morning at 09:00, enjoy a canoe ride down the Sok River. Relax and take in the majestic scenery of the area while gently floating past some of Khao Sok's most dramatic scenery and tallest limestone mountains. About halfway through the journey, stop for a swimming and coffee break (depending on the season)! Then, return to the canoe and continue paddling downstream. While drifting down the river, the expert local guide will point out brightly coloured birds, monkeys, monitor lizards and other wildlife that may be hiding in the tree canopies.
The guides come from the local villages and, although their English language skills may be limited, they more than make up for that with their infectious enthusiasm for the unique natural environment and their incredible 'feel' for the jungle. Don't be surprised if they often point out things that would be nearly invisible to anyone else. In the afternoon, transfer to Phuket, heading towards Yacht Haven Marina Pier to board the hotel's private speedboat (the hotel accepts the last booking for private boat at 16:00). Overnight at Paradise Resort
Distances and journey time:
Khao Sok – Phuket (170 km): 2.16 hr
Day 6: Koh Yao Noi (B/L)
Breakfast at the hotel. Today, take part in a feel-good activity that strives to make a positive impact in the lives of people in the local community of Koh Yao Noi. Spend the day with villagers while learning about their lifestyle and traditions. Learn traditional fish farming techniques, see how rubber plantation are maintained and practice the art of batik making.
Then, join a local family for a home-cooked lunch in their home. After lunch, take a walk through some of the area's scenic rice paddies and snap a few photos, with grazing water buffalo and a distinctly 'tropical' vibe, it's a truly photogenic place. To wrap the day up, stop by local market for an another look at the area's local life before returning to the hotel. Overnight at Paradise Resort
Day 7: Koh Yao Noi (B)
After breakfast at the hotel, the rest of the day is free to spend at leisure. Head out for some independent exploration, visit some of the island's idyllic beaches or do nothing at all while relaxing at the hotel! Overnight at Paradise Resort
Day 8: Koh Yao Noi – Phuket Departure (B/L/)
After breakfast at the hotel, take a speedboat from the hotel to the mainland of Phuket, continuing to Phuket Airport.
Distances and journey time:
Khao Sok – Phuket (170 km): 2.16 hr
Price in Thai Baht from 01 apr - 31 oct 2017 
Pr person in double room                    60695,-
Single supplement                                 14295,-
Price in Thai Baht from 01 nov 2017 - 31 mar 2018 
Pr person in double room                     64995,-
Single supplement                                  18395,-
Our Services include:
Hotel accommodation in shared twin / double room
Meals as mentioned (B= Breakfast, L= Lunch, D= Dinner)
Tour & transfers as mentioned by private air-conditioned vehicles
English speaking local guide
Entrance fees for mentioned visits
Our Services do not include:
International and domestic flights 
Meals other than mentioned above
Visa services
Camera/video entrance fees.
Personal expenses
Travel insurance, tips, visa
Other services not clearly indicated in the package inclusions above.
Important notes:
• Reservations during peak times (Christmas, New Year, Vietnamese Lunar New Year, National Holidays) may be subject to peak season surcharges and surcharges for compulsory Gala dinners on 24th and 31st december.
• Rooms at hotels are available only from 1400 on arrival day till 1200 on departure date. A supplement will be added if early check-in or late check-out is desired.
• Please note that all the above services & package tours have not been booked yet, they are proposed for your information only. We will not begin any reservation before we receive your confirmation.
• If one or some proposed service(s) is (are) not available at the time of booking, we will try to arrange similar service(s) in order to avoid as many important changes as possible.
• The itinerary may at times be altered by our guides due to local conditions, the skill of participants and other unexpected circumstances. Our priority is always the experience and safety of our clients.
Email: Contact@insighttoasia.com
Phone: +66 856869402
Facebook: Insighttoasia