On our Hip and Chic Thailand Tour, you will tap in to all things hip and chic on this stylish Thailand holiday. Rub shoulders with tastemakers at Bangkok's best bars, cruise the streets of Chiang Mai by Segway and learn to 'spin' with Koh Samui's top DJ. Connect with Thailand's rich traditions but also discover its modern, funky side.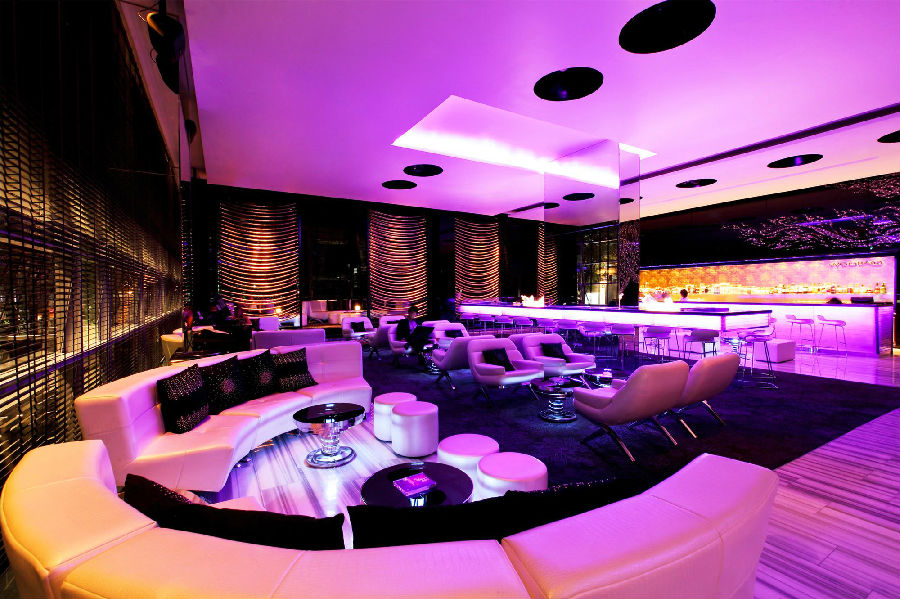 Explore Thailand's creative side
Visit modern art centres, witness performers at a vibrant night market and meet innovative chefs leading the Thai food movement.
Drink and dine with the 'in crowd'
Dine at Thailand's top tables and sip cocktails at stylish bars popular with the hip local crowd.
Relax in style
Stay at the famously-chic W Hotel chain in Bangkok and Koh Samui and the timeless Anantara Resort in Chiang Mai.
Day 1: Arrival in Bangkok (D)
Upon arrival in Bangkok Airport, meet your local guide and transfer to the hotel. The rest of the afternoon is free to spend at leisure. Either relax at the hotel or head out for a bit of independent exploration.
In the evening, head out for a night on the town and discover the legendary nightlife of Bangkok. Begin at the super-chic Long Table Bar for some delicious sunset cocktails with views over the central part of the city. From here, we head to one of the city's best kept culinary secrets – The Face Bar & Restaurant. The Face is an upscale joint that fuses three of Asia's most distinct cultures to charming effect -Japanese, Indian and Thai. Enjoy the ambience of this teak wood mansion while dining on the unique options the restaurant has to offer.
After dinner, transfer to Asiatique Night Bazaar and enjoy a wide array of options for shopping, local entertainment and nightlife -all with spectacular views of the Chao Phraya River. Overnight at W Bangkok.
(Note: Smart casual dress code is required at Long Table Bar -tank tops, sleeveless athletic clothing, spaghetti strap and tube tops, and flip flops are not allowed at Long Table Bar.
Distance and journey time:
Bangkok Suvarnabhumi Airport – W Hotel Bangkok (34.5 km): 35 min
Day 2: Bangkok (B/L)
After breakfast at the hotel, meet with the guide and head out for a full-day of sightseeing while exclusively using public transportation for a more 'local' experience. Walk to the nearest BTS station and get on the Skytrain for a short ride to the terminal station of Saphan Taksin on the banks of the Chao Phraya River. Continue by public boat to Tha Thien Pier and disembark there to visit Wat Pho, the birthplace of traditional Thai massage and home to a massive reclining Buddha. From there, continue to the Grand Palace. The Royal Grand Palace is the nation's most important landmark and a revered royal monument that hosts mysterious Emerald Buddha -the most revered Buddha image in Thailand. Appropriate dress is required (or can be rented on site). Lunch is taken in a local restaurant near the palace.
Afterwards, take a tuk tuk ride across the royal fields of Sanam Luang and arrive at the backpacker's Mecca of Khao San Road (approximately 20 minutes). After taking a look around this iconic area, head to Thai Champs Elysees and catch a tuk tuk to the historic canal of Saen Saeb. There, board a 'bus boat' and cross the river. Disembark for a short walk from Ratchathewi boat station to have lunch at Jim Thompson Restaurant with a delicious Thai set menu. More than just a restaurant, the Jim Thompson house also has a very interesting history as the birthplace of a famous silk industry.
From there, continue the tour with a visit to Erawan Shrine, a famous Hindu shrine in Bangkok which houses a statue of Phra Phrom, the Thai representation of the Hindu god, Brahma. Afterwards, take advantage of an opportunity to go shopping at one of Bangkok's huge shopping complexes (Central World, Siam Square, Siam Center, Siam Discovery, Siam Paragon), or simply return to the hotel by BTS.
Optional evening activity:
Meet & Greet Dinner at Nang Gin Kui (Sit, Eat & Talk) – Thai Contemporary Set Menu, including sparkling wine. Enjoy a fine private dining in a homey setting up on the 15th floor of a residential building with "Nang Gin Kui", a self-proclaimed guerilla dining operation run by a couple, Florian Gypser, an architect, and Goy Siwaporn, an avid foodie, who like to share their private space with its stunning views of the Chao Phraya River. Partake in the cooking preparation process and learn basic knowledge of Thai cooking. (Including roundtrip transfers).
Note: This special dinner is scheduled only on Thursdays and Saturdays.
Overnight at W Bangkok.
Day 3: Bangkok (B/L)
After breakfast at the hotel, transfer to the 'hip & chic' cooking class studio at Issaya Cooking Studio, located on the lower level of a trendy upper-class shopping mall in the Central Embassy. The Studio is an offshoot of the renowned Issaya Siamese Club, a flagship restaurant of Thailand's internationally acclaimed Chef Ian Kittichai. Learn the "Issaya Recipes Class" while preparing a 4-course meal over the course of 4 hours. Afterwards, sit down and enjoy the creations.
Later in the afternoon, transfer to Chakrabongse House, by the Chao Phraya River, and hop on a luxury speed boat for a 2-hour canal tour, with stops at Wat Arun, the famous Temple of Dawn, and other unique areas only visited by boat. Enjoy a bottle of sparkling wine onboard during the tour.
Optional evening activity:
Drink at Sirocco Sky Bar, Lebua State Tower. Sirocco Sky Bar Lebua has several reasons to turn minutes into timeless moments. Suspended in the sky on the 63rd floor of The Dome at State Tower, the Sky Bar is one of the world's highest open-air bars, overlooking a panoramic view of Bangkok and the Chao Phraya River. With such an enthralling ambience coupled with a seductive selection of fine vintages, beverages, cocktails and appetizers, Sirocco Sky Bar is one of Bangkok's absolute must-see destinations. Note: Smart casual code required.
Overnight at W Bangkok.
Distance and journey time:
W Hotel Bangkok – Central Embassy Shopping Mall (3.8 km): 18 min
Central Embassy Shopping Mall – Chakrabongse Villa (12.1 km): 25 min
Day 4: Bangkok – Chiang Mai (B/D)
After breakfast at the hotel, transfer to the airport for a flight to Chiang Mai. Upon arrival in Chiang Mai Airport, transfer to the hotel for check in and, after freshening up, head to the Old City for an unforgettable Chiang Mai Segway tour. Following a 15-minute introduction on how to use a Segway -an electric, self-balancing personal transport vehicle. After setting off on the Segways, the tour itself can vary depending on the day and whatever activities may be happening around the city's highlights. Typical stops include Wat Phrasing, Wat Pan Tao, Wat Chedi Luang, Thapae Gate, Wat Chiang Man, and Three Kings Gate. Segways are a fantastic way to take a voyage through the culturally rich and enchanting city of Chiang Mai.
In the evening, join monks at a local temple in their nightly prayer chanting. Light some incense or burn a candle and experience this wonderful Buddhist event as a local. From here, head to Rachamankha Hotel for a fantastic dining experience. After filling up, head across the Ping River to the lively Waroros Market. This market is a hub of local life and is bursting with fresh flowers and local street food stalls. While following the guide's lead, explore the market and sample some local Thai sweets to finish off a wonderful night. Overnight at Anantara Resort & Spa
Distance and journey time:
W Hotel Bangkok - Bangkok Suvarnabhumi Airport (34.5 km): 35 min
Chiang Mai Airport – Anantara Chiang Mai Resort & Spa (6.4 km): 12 min
Day 5: Chiang Mai (B/L)
Today, discover why Chiang Mai is known as "The Creative City of Thailand". Depart from the hotel in the morning and transfer to the hip student area of Nimmanhemin at the University of Chiang Mai's (CMU) Contemporary Art Gallery. This multi-level gallery showcases contemporary art displays by talented local artists. Meander its halls and learn about local life from a Thai artist's perspective. From here, stop for coffee at either the award winning Ristr8to Latte Art Café or the quaint Din Din Mud Brick Cafe. We then transfer to the Elephant Parade Gallery, to try our hand at creating unique personalised art in the form of an elephant. Elephant Parade is a worldwide collection of hand-painted elephants that help fund the Asian Elephant Conservation Foundation. The painted elephants come in all sizes, the largest of which travel the world in an International Art Exhibition endorsed or painted by celebrities, designers and artists. After getting some inspiration from other painted elephants, take some time to paint one as well! The more creative and innovative the design the better! (Note: CMU Art Gallery is closed on Mondays and public holidays.) Lunch at a local restaurant.
In the late afternoon, drive up to the mountain temple of Wat Phra That Doi Suthep, the most famous landmark of Chiang Mai, situated 1,676 metres above the city. Climb up the staircase adorned with imposing looking Nagas – the mythical Thai water spirits – to visit the exquisite golden pagoda. The sound of temple bells fills the air and the view overlooking the city makes an irresistible photo opportunity. Overnight at Anantara Resort & Spa
Day 6: Chiang Mai (B/L)
Breakfast at the hotel, drive to a beautiful valley on the edge of Doi Suthep National Park. Patara Elephant Farm was founded in 2000 to operate an elephant breeding program. With the conservation philosophy "Extinction is Forever", Patara Elephant Farm encourages people to experience this very special animal in a meaningful way.
Throughout the day, experience the life of a mahout (elephant owner), learning how to approach elephants in the bush, unchain, feed and bathe them. Once the elephant is ready, enjoy an exciting one hour bare-back ride through rice paddy fields to a waterfall, and enjoy a picnic lunch in the jungle. Ride back to the farm and say goodbye to the new pachyderm friend before returning to Chiang Mai. Overnight at Anantara Resort & Spa
Distance and journey time:
Anantara Resort & Spa – Patara Elephant Farm (28.4 km): 38 min
Day 7: Chiang Mai – Samui (B/D)
After breakfast at the hotel, head to the airport in Chiang Mai and catch a flight to Koh Samui. Upon arrival at Samui Airport, transfer to the hotel and spend the rest of the afternoon at leisure. For dinner, head to Beach Republic. This stunning restaurant offers fine dining with tapas and Mediterranean and Thai cuisine, and is set against a spectacular ocean-front setting. Overnight at W Retreat Samui
Distance and journey time:
Anantara Chiang Mai Resort & Spa - Chiang Mai Airport (6.4 km): 12 min
Samui Airport – W Retreat Samui (8.4 km): 15 min
W Retreat Samui – Beach Republic (14.1 km): 14 min
Day 8: Samui (B)
Breakfast at your hotel and the day at leisure.
Optional activity:
Marine Yachting Angthong. Come join the Sailboat M/S Naga as she cruises to the Ang Thong Marine Park, which consists of 42 islands and a protected marine environment that is habitat to a host of mammals, reptiles, birds and marine life. The Park, which is located between the mainland and the islands of Koh Samui and Koh Phangan, is most famous for Talay Nai. Once a giant kyrst cavern, the ceiling collapsed to form a fantastic inland saltwater lake. Take a step back in time while visiting uninhabited islands, spectacular limestone rock formations, abundant wildlife and deserted beaches -a true natural marvel.
Time: 08:30 – 18:30
Departure: Tuesdays & Fridays
Note: Join-in tour, a minimum of 2 persons is required.
Optional evening activity:
Nikki Beach Club. Nikki Beach is a beach club and restaurant with a worldwide reputation for remarkable world-class cuisine that incorporates the island's fresh and natural ingredients in an absolutely stunning location. Overnight at W Retreat Samui
Day 9: Samui (B)
After breakfast at the hotel, the rest of the day is free at leisure. Relax, head out for some independent exploration or choose between the below options:
W Resident DJ workshop or introduction for 2 hours
• The price is inclusive of workshop fee, snack & beverage
• Require minimum 2 persons and maximum 10 persons
• Venue will be at WOOBAR and SIP Bar (subject to change depends on the time and weather.)
• Time will be from 11:00 – 13:00 and 15:00 – 17:00 (Not available on Sundays and Mondays)
• 2 days advanced reservation is required.
Mixology Course
• The price is inclusive snacks & beverages and certificates for the participants
• Require minimum 2 persons and maximum 12 persons
• Venue will be at WOOBAR
• Time will be from 12:00 – 18:00
• 1 day advance reservations is required and subject to availability.
Overnight at W Retreat Samui
Day 10: Samui (B)
After breakfast at the hotel, transfer to Samui Airport for your onward flight.
Distance and journey time:
W Retreat Samui - Samui Airport (8.4 km): 15 min
Price in Thai Baht from 01 apr 2017 - 31 mar 2018
Pr person in double room                    145295-
Single supplement                                   81195,-
Note:
• Blackout dates during 24 Dec 16 – 05 Jan 17
Our Services include:
• Accommodation at the selected hotels.
• Meals as mentioned (B= Breakfast, L= Lunch, D= Dinner).
• English speaking guide.
• Tours and transfers as mentioned by air conditioned vehicle / public vehicle as mentioned.
• Entrance fees for mentioned visits.
• Including either DJ work shop or Mixology course at W Retreat Koh Samui
• Inclusive of one glass of one cocktail per person at Woo Bar in Bangkok (W Hotel)
Our Services do not include:
• Other meals than mentioned
• Other services than mentioned
• International and domestic flights
• Laundry, telephone calls and expenditure of a personal nature
• Tips, travel insurance
Optional tours:
Day 2: Meet & Greet Dinner at Nang Gin Kui with Thai Contemporary Set Menu including sparkling wine (incl. transfers), thb 9000.- (min 2 pax)
Day 8: Marine Yachting Angthong (Join), thb 5400,- pr person (min 2 pax)
Important notes:
• Reservations during peak times (Christmas, New Year, Vietnamese Lunar New Year, National Holidays) may be subject to peak season surcharges and surcharges for compulsory Gala dinners on 24th and 31st december.
• Rooms at hotels are available only from 1400 on arrival day till 1200 on departure date. A supplement will be added if early check-in or late check-out is desired.
• Please note that all the above services & package tours have not been booked yet, they are proposed for your information only. We will not begin any reservation before we receive your confirmation.
• If one or some proposed service(s) is (are) not available at the time of booking, we will try to arrange similar service(s) in order to avoid as many important changes as possible.
• The itinerary may at times be altered by our guides due to local conditions, the skill of participants and other unexpected circumstances. Our priority is always the experience and safety of our clients.
Email: Contact@insighttoasia.com
Phone: +66 856869402
Facebook: Insighttoasia