Our Rejuvenating in Thailand wellness and health retreat tour will invigorate your senses and rejuvenate your body and soul. You will indulge at some of the worlds leading health retreats and worlds best spas, undergoing traditional and modern treatments to refresh tired muscles, bodies and minds. Your will be stay in luxury health and wellness resorts, surrounded by beautiful tropical gardens and white sandy beaches, while you enjoy Thailand's rich spiritual and physical health traditions, renew your spirit and dine on organic, fresh meals to replenish your body.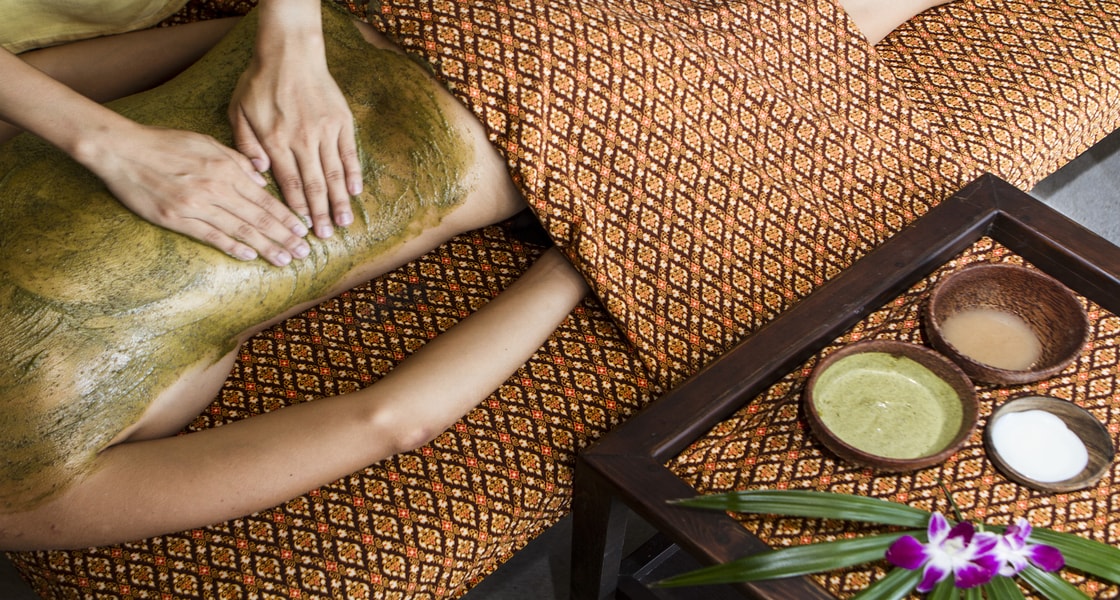 Join a meditation course
Take a half-day Buddhist meditation class, learning from a Thai monk at one of Bangkok's tranquil temples.
Indulge in unique spa treatments
Enjoy a one-hour 'float' session, removing all sensory input to help clear the mind and relax the body.
Retreat on tropical beaches
Spend a week on the beach, staying seaside in Hua Hin and at a top spa resort on Koh Samui.
Day 1: Arrival Bangkok
Upon arrival at Bangkok's Suvarnabhumi Airport, be greeted by the guide and transferred to your wonderful boutique hotel, the charming Ariyasom Villa, centrally located and with only 24 rooms, in the comfort of a private, air-conditioned vehicle. Overnight at Ariyasom Villa
Distance and journey time:
Bangkok Suvarnabhumi Airport - Bangkok city (approx. 40 km): approximately 40 min – 1 hr
Day 2: Bangkok (B)
Start the day with a healthy vegetarian breakfast at the hotel. Then it's time to refresh the body and relax tired muscles after the long journey with a spa treatment at Oasis Spa, one of Bangkok's best day spas, located in the heart of the city. Enjoy the sensation of pleasantly hot oil and a smooth Swedish-style techniques, combined with aromatherapy elements during a transformative session of professional massage. Note: Aromatherapy hot oil massage (60 minutes)
After being fully relaxed during the massage, your guide is waiting to accompany you to Wat Mahathat for an introduction to Buddhist meditation. As an important meditation centre, Wat Mahathat is open to everyone, and the meditation rituals are practised on a daily basis. Using techniques similar to those taught by Mahasi Sayadaw, and based on four foundations of "Mindfulness" described in the Maha Satipatthana, these classes will teach a variety of meditation methods. Wat Mahathat is located west of Sanam Luang Park and just a few minutes' walk from the Grand Palace and Wat Pho. The half-day program ends late in the afternoon. Overnight at Ariyasom Villa
Note:
• Available daily except for the 1st & 7th days of the month in the lunar cycle.
• Advanced reservations are recommended as the lecture is occasionally unavailable.
• The monk can speak English.
Day 3: Bangkok (B/L/D)
Early risers can take an opportunity to stroll through Lumpini Park, Bangkok's version of 'Central Park', to witness locals practising Tai Chi, yoga and aerobics. Afterwards, transfer to the Be Organic by Lemon Farm Restaurant at Portico Langsuan for a healthy breakfast. Afterward, visit one of Bangkok's most spectacular and popular attractions, the famed Grand Place, which has been the seat of Thailand's revered Royal family for more than 200 years. This half-day tour explores the impressive complex of temples, palaces, pavilions and museums at the Grand Palace. One must-see attraction is the enchanting Emerald Buddha, which, according to legend, is almost 2,000 years-old.
After the Grand Palace, the tour continues to nearby Wat Pho - Bangkok's oldest temple and arguably its most impressive. Home to the magnificent 45-metre long reclining Buddha, Wat Pho is also a place of learning, having served as Thailand's first school of traditional medicine and Thai massage. A vegetarian lunch will then be served at Gaggan Indian restaurant, which was named as one of "Asia's 50 Best Restaurants" in 2016, before returning to the hotel for some leisure time.
Late in the afternoon, head to the Bangkok Float Centre for 60-minute floatation session. A huge amount of brain power is used every second in order to deal with the strain that gravity places on one's body but now floating weightlessly your body is perfectly supported by a cushion of silky skin-temperature liquid. Freed from all sensation of gravity, temperature, touch, sight and sound (which together account for 90% of normal neuromuscular activity), you conserve and redirect vast amounts of natural physical and mental energy. The ultra-deep relaxation of floating "resets" the body's hormonal and metabolic balance, strengthening resistance to and accelerating recovery from the effects of stress, illness, injury or strenuous exercise.
After this amazing experience you return to the hotel. In the evening you will experiencing the sights, sounds and aromas of the historic Bangrak neighborhood, which translates literally as "Village of Love". Here, experience how locals live, eat and shop while taking part in unique local food tastings, each packed with authentic history and intimate stories of the neighborhood. Overnight at Ariyasom Villa
Note:
• For the morning temple and palace tours, appropriate modest dress is required (or can be rented on site).
Day 4: Bangkok – Hua Hin (B/L/D)
After breakfast at hotel, be transferred to the seaside town of Hua Hin, the holiday destination of choice for the Thai royal family. Begin with a tour exploring the most interesting parts of this charming town, starting at Phra Ratchaniwet Marukhathayawan Palace -a beautiful teak wood palace built by King Rama V. Proceed to Khao Takiab, which is home to a troop of wild monkeys that can be fed by guests and offers spectacular views of the Hua Hin's skyline. Then, enjoy a healthy lunch at McFarland House, The Barai. After lunch, continue to the Chiva-Som Health Resort.
Chiva-Som is a top-notch luxury beachfront health resort, set in 7 acres of tropical gardens, that combines international-standard wellness programs with traditional Thai hospitality to deliver a unique, non-regimented and holistic approach to nourishing the mind, body and spirit. For the last 15 years its been one of the leading destination spas in the world and its been named a top health and wellness property by Luxury Magazine for seven consecutive years, while simultaneously winning awards for its sustainable development practices.
Hailed as the world's leading health retreat, Chiva Som is as luxurious as shedding toxins can be. Since opening in 1995, the resort has welcomed Hollywood celebrities and business moguls, such as Kate Moss, Hugh Grant, Elle Macpherson and Liz Hurley. 
Chiva Som's naturopaths and holistic practitioners are the best in their industry, creating detox programs tailor-made to individual guest needs. It's a hefty task, considering there are over 200 treatments offered, and packages range from the strictest of system flushes to a non-threatening introductory option. One of the coolest offerings is the daily cooking classes, where guests learn healthy recipes that include fresh produce from Chiva Som's much-lauded organic garden.
A variety of holistic retreats give you the chance to bring your mind, body, and spirit into balance. Cell vitality promotes cellular health in those who have recovered or are in remission from cancer; Natural Renewal aids in the discovery of self-awareness and inner peace. Retreats are also available for personalized detox, sustainable weight loss, yoga, and aesthetic spa treatments.
All retreats start off with a health, wellness, and skin consultation, as well as a physical analysis with a professional staff member. This is designed around your goals and objectives, your current state of health and ability to achieve those goals. Your advisor will help you achieve the most out of your stay by devising a personal program of treatments and services. These will include diet, exercise, activity, rest and relaxation, physical ailments, emotional issues and your inner self. They offer every guest a total lifestyle transformation to achieve wellness and longevity with a full range of health and wellness treatments. The focus of their programmes is on balancing and rejuvenating the Mind, Body and Spirit. All Chiva-Som programmes are customised for your individual's lifestyle improvement through the integration of naturopathic and conventional medicines.
During the retreat, you'll be able to enjoy three meals per day, daily spa treatments, and unlimited use of the steam room, sauna, and jacuzzi. If you're up for it, you can experiment with a bevy of treatments that are far from mainstream: gyrokinesis, fascia release therapy, stress release therapy, dry skin brushing, and crystal or quantum massage. Dinner at the resort. Overnight at Chiva-Som Health Resort
Distance and journey time:
Bangkok – Chiva-Som (202 Km): 2.43 hr
Day 5-6: Hua Hin (B/L/D)
The next two days you can enjoy world class treatments and rejuvenate with the Chiva-Som health package. Overnight at Chiva-Som Health Resort
Chiva-Som health package Includes:
• Individual health and wellness consultation (60 mins);
• 3 spa cuisine meals per night (beginning with dinner);
• Complementary physical analysis (25 mins) and skin consultation are available as requested;
• A daily spa treatment is offered, including Thai Massage (50 mins), Chiva-Som Massage (50 mins), Invigorating Massage (50 mins), Relaxing Foot Massage (50 mins), Oriental Scalp Massage (40 mins) or Chiva-Som Skin Haven Body Polish (25 mins);
• Daily fitness and leisure activities (8 classes daily);
• Unlimited use of Water Therapy Suites (steam, sauna room and jacuzzi).
Day 7: Hua Hin – Bangkok – Samui (B/L/D)
Meet with the guide after breakfast at the hotel and be transported back to Bangkok's Suvarnabhumi Airport in the comfort of a private, air-conditioned vehicle for a flight to the island of Koh Samui. Upon arrival at Samui Airport, transfer to your amazing and wonderful tropical health resort, Kamalaya Koh Samui.
Kamalaya Koh Samui, is an award-winning Luxury Wellness Sanctuary and Holistic Spa resort on the southeastern side of Koh Samui. In 2017 alone it was featured in Forbes Magazine, named as one of the 6 World's Best Detox Spas by Health and Fitness Travel, top ten best health retreats in Thailand by Luxury Society Asia and received the US Condé Nast Traveler Magazine's Gold List award, Worldwide Health & Wellness Destination of the Year by World Spa & Wellness Awards, Best Overseas Health & Wellness Property by Luxury Travel Magazine's Gold List Awards and Spa Cuisine of the Year by AsiaSpa Awards. At Kamalaya Wellness Sanctuary and Holistic Spa resort, they integrate a diverse range of Oriental and Western healing practices, to give you a life changing experience and a life-enriching healthy holiday. 
Experienced practitioners and dedicated professionals offer a wide variety of health treatments, consultations, classes, programs and retreats to promote the harmonious development of the whole person, such as consultations and treatments in chinese medicine, naturopathy, homeopathy and Ayurveda treatments.
With their team of international naturopaths, you create your own health and wellness program from their extensive range of holistic medicine, spa and healing therapies and treatments, such as detox & rejuvenation, balance & revitalise for stress relief and burnout, relax & renew, ideal weight, weight control, sleep enhancement, emotional balance, optimal fitness, personal yoga, bio-resonance evaluations, nutritional analysis biological age assessments and comprehensive laboratory testing, colonic hydrotherapy with ozone herbal steam cavern, far-infrared sauna, hot and cold plunge pools including a lap-pool and a leisure pool, therapeutic massages, including lymphatic drainage, traditional Thai massage, Chi Nei Tsang (Taoist abdominal massage) and customized herbal formulas, personalised fitness training, Yoga, Pilates, Chi Gong, Tai Chi, and meditation classes.
Centered around a monk's cave that once served Buddhist monks as a place of meditation and spiritual retreat, Kamalaya's essence is expressed in its name, 'Lotus (kamal) Realm (alaya)', an ancient symbol for the growth and unfolding of the human spirit. Kamalaya is designed to be in harmony with the natural landscape — its spacious, luxurious rooms are surrounded by granite boulders, streams, trees, and tropical plants.
At Kamalaya you will discover a tranquil healing hideaway, where you can relax and enjoy life as well as participate in a structured wellness program or inspiring retreat. Overnight at Kamalaya Koh Samui
Distance and journey time:
Chiva-Som – Bangkok (202 km): 2.43 hr
Samui Airport – Kamalaya Samui (22.2 km): 44 min
Day 8-11: Samui (B/L/D)
During your 6 days at Kamalaya, you will enjoy the Kamalaya Relax and Renew package as well as the Kamalaya health and pampering package.
Kamalaya Relax & Renew
This program is designed for people who need to step back from their daily lives and recover balance, relax, renew their energy and replenish their spirit. Experience a range of therapies drawn from diverse healing traditions and a variety of holistic activities to de-stress, replenish depleted energy levels and boost the immune system. Optional alternative medicine treatments and private sessions may be recommended, depending upon individual needs. The least intensive of the programs, 'Relax & Renew', is ideal for people looking for a gentle, relaxing wellness holiday.
Relax & Renew package includes:
• 3 Kamalaya Cuisine meals per day;
• All beverages, excluding imported drinks and alcohol;
• 1 x Wellness consultation;
• 1 x follow-up Wellness consultation;
• 1 x Body bio-impedance analysis;
• 1 x 75 min Lotus Scrub & Wrap;
• Use of Steam Cavern, swimming pool, plunge pools and Shakti Fitness Centre; Complimentary scheduled daily holistic fitness activities;
• 1 x Wellness gift pack.
Kamalaya health and pampering package includes:
• 2 x 90 min Vital Essence Oil Massages
• 1 x 30 min Traditional Asian Hand Massage
• 1 x 45 min Traditional Asian Hand Massage
• 1 x 60 min Traditional Asian Foot Massage
• 1 x 90 min Traditional Thai Massage
• 1 x 60 min Indian Head Massage
• 1 x 30 min Chi Nei Tsang
• 1 x 30 min Far Infrared Sauna
Overnight at Kamalaya Koh Samui
Day 12: Departure Koh Samui (B)
After an incredibly rejuvenating holiday, transfer to the Samui Airport for the departure flight.
Distance and journey time:
Kamalaya Samui – Samui Airport (22.2 km): 44 min
Price in Thai Baht from 01 jun - 30 sep 2017
Pr person in double room                    207395-
Single supplement                                    51495,-
Price in Thai Baht from 30 sep 2017 - 31 may 2018
Pr person in double room                    239295,-
Single supplement                                   67695,-
Note:
• Black-out Period: 17 Dec 16 – 08 Jan 17, a minimum stay of 7 consecutive nights is required
Our services include:
Meals as mentioned (B = Breakfast, L= Lunch, D= Dinner)
English speaking guide
Tours and transfers as mentioned by private vehicle
Entrance fees for mentioned visits
Chiva-Som retreats package 4 days / 3 nights
Relax and Renew package 6 days / 5 nights at Kamalaya
Our services do not include:
Other meals than mentioned
Other services than mentioned
International and Domestic Flights
Laundry, telephone calls and expenditure of a personal nature
Tips, Travel insurance
Important notes:
• Reservations during peak times (Christmas, New Year, Vietnamese Lunar New Year, National Holidays) may be subject to peak season surcharges and surcharges for compulsory Gala dinners on 24th and 31st december.
• Rooms at hotels are available only from 1400 on arrival day till 1200 on departure date. A supplement will be added if early check-in or late check-out is desired.
• Please note that all the above services & package tours have not been booked yet, they are proposed for your information only. We will not begin any reservation before we receive your confirmation.
• If one or some proposed service(s) is (are) not available at the time of booking, we will try to arrange similar service(s) in order to avoid as many important changes as possible.
• The itinerary may at times be altered by our guides due to local conditions, the skill of participants and other unexpected circumstances. Our priority is always the experience and safety of our clients.
Email: Contact@insighttoasia.com
Phone: +66 856869402
Facebook: Insighttoasia