On our Thailand in luxury tour, you will explore the wonderful land of smiles in style with varieties of marvelous cultural experiences including less visited floating market in the countryside, cruise journey on the river of kings to witness the ancient ruins in the former Siamese capital, a unique opportunity to get up close and personal to the jumbo beauties of the jungle, visiting hill tribe villages, beautiful scenic views of the three-country border in the Golden Triangle, see a fine display of South East Asian textile arts and pay a respect to one of the most sacred stupas on the mountain top temple in the charming rose of the North – Chiang Mai. End your holidays with a beach break at the legendary Pearl of Andaman.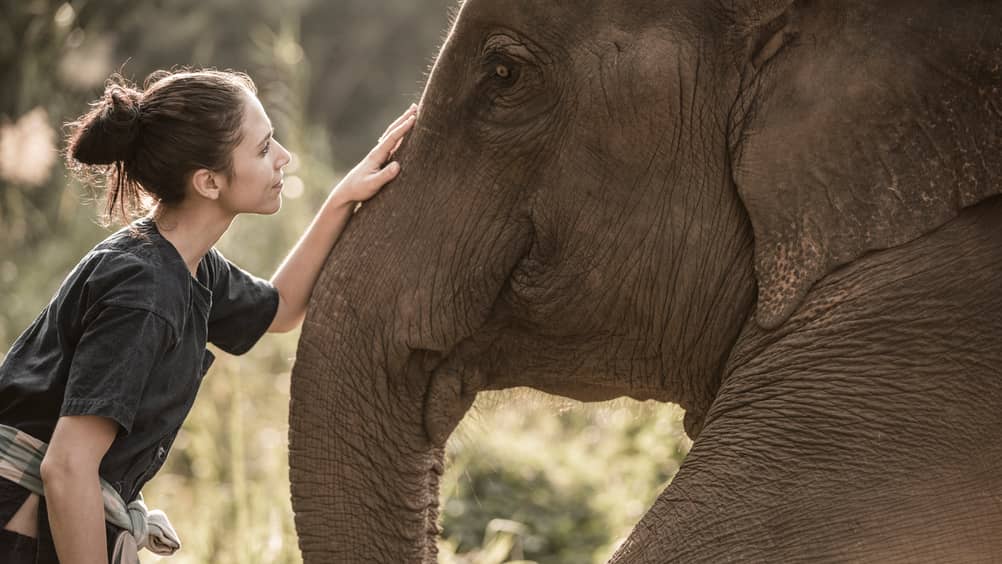 Experience local Thai culture
Witness monks chanting, partake in the morning alms donation ceremony and cook with locals for a taste of Thai culture.
Explore Thailand's natural wonders
Stay at a luxury camp in the mountains and meet Asian elephants, then bliss out on a pristine tropical beach.
Step off the beaten tourist trail
Enjoy insightful tours of Chiang Mai and Bangkok, getting to see local neighbourhoods and partake in local traditions that most tourists never get to experience.
Day 1: Arrive Bangkok
Upon arrival at Bangkok Suvarnabhumi Airport, you will be met and greeted by the fast track representative at the air-bridge, who will escort you to an immigration counter without queue. The representative will carry luggage and bring you to the arrival hall where your Travel guide will be waiting for you holding a signboard with your name on it and bring you to air-conditioned car to your hotel in Bangkok. On the way your guide will give you some more information about the city and its rich history as well as Thai culture in general. Overnight at The Siam Bangkok.
Distance and journey time:
Bangkok Suvarnabumi Airport – The Siam Hotel (36.7 km): approx. 50 min
Day 2: Bangkok (B/L)
An early start will get you to Wat Pho in time to experience the monks early morning chanting ritual (chanting starts at 09.00 am). After this uplifting and often private experience, visit the temple grounds and the famous 45-metre reclining Buddha. Continue to the Grand Palace, Thailand's most important landmark, where you will be awed by the grandeur and majesty of the building and its throne halls. Then, of course, marvel at the mysterious Emerald Buddha, the most revered Buddha image in Thailand.
Lunch is at The Eatery, Sala Rattanakosin, overlooking the Chao Phraya river view. Depart for Wat Saket, make a short climb up to the Golden Mount to enjoy the panoramic view of Rattanakosin Island while listening to the chimes of hundreds of temple bells. From here, it is a short walk to Soi Ban Batra, a handicraft community famed for the art making monk's alms bowls. Continue to Jim Thompson's mansion, for a guided tour of the house and its Asian antiques. This teak mansion was home to the charismatic American silk millionaire who spent years filling it with beautiful, priceless antiques before disappearing in mysterious circumstances. After that is free time for Bangkok experiences or shopping on your own design. Overnight at The Siam Bangkok.
Day 3: Bangkok – Ayutthaya – Bangkok (B/L)
Drive to Ayutthaya, the Capital of Thailand for more than 417 years from 1350 to 1776 when it was sacked by an invading Burmese army. First, visit at Bang Pa In to see the summer palace built by King Rama IV at a time of growing European influence in Thailand. See the Italian inspired palace building and surrounding temples. Also visit Wat Niwet Thammapawat, a gothic inspired temple beside the river.
Board the traditional rice barge Thanatharee at Wat Kasatra pier, and enjoy your private lunch cruise on the Chao Phraya River. En route you will have beautiful views of Wat Chai Wattanaram and local lifestyle on the riverside. Disembark at Wat Kasatra pier and visit the most important of the ruined temples in Ayutthaya Historical Park: Wat Yai Chaimongkol, Wat Phra Si Sanphet, Wat Mahathat (where the Buddha face is naturally emerged out of the tree)
OPTIONAL ACTIVITY: "Kermit" Tuk Tuk Ride in the Historical Park
Kermit is a special type of motorized available only in Ayutthaya and Trang, experience for your trip to take it to explore the Ayutthaya Historical Park.
Price: THB 500 per person (minimum 2 persons)
Return to Bangkok in the late afternoon. Overnight at The Siam Bangkok.
Distance and journey time:
Bangkok – Ayutthaya (82.7 km): 1.02 hr
Day 4: Bangkok – Chiang Rai (B/D)
Depart to Bangkok Airport to catch a domestic flight to Chiang Rai. Arrive at Four Season's camp pier and continue on a traditional long-tail boat to your Luxury Camp. Free for relax with the natural atmosphere. Dinner served at Nong Yao Restaurant, an open-air thatched-roof pavilion by the riverbank, with rustic hardwood floors, Nong Yao Restaurant offers Thai, Laotian, Burmese and western cuisine. In keeping with the Camp's atmosphere, guests have the option to dine together at a long family-style table, seated in suede chairs, or privately, at separate tables. A bar area, complete with a double-sided fireplace in the middle, is perfect for pre-dinner drinks. Overnight at Four Seasons Tented Camp in The Golden Triangle.
Distance and journey time:
The Siam Hotel - Bangkok Suvarnabumi Airport (36.7 km): approx. 50 min
Chiang Rai Airport – Four Seasons Tented Camp Golden Triangle (56.6 km): 57 min
Day 5: Chiang Rai (B/L/D)
Wake-up call and morning beverage and breakfast are at Nongyao Restaurant. Then meet with the professional mahouts who will provide training in how to care for and "drive" an elephant. Lunch and followed by some leisure time.
In the afternoon, experience a cruise down the majestic Mekong River onboard a traditional longboat - "007" style en route to the Golden Triangle where Thailand, Myanmar (Burma) and Laos come together. Once you are through with the Golden Triangle, board a Songtaew followed by a Tuk Tuk to visit a local market and an ancient temple called "Chedi Luang". Then returns to the resort for relax.
Enjoy your 90-minutes Spa Experiences at the open-air Salas featuring treatment rooms, spa beds and a bathtub/shower area. With their rustic design and use of natural materials, the salas blend in with the environment. Sundowner Cocktails at Burma Bar and followed by dinner at Nong Yao Restaurant. Overnight at Four Seasons Tented Camp in The Golden Triangle.
Day 6: Chiang Rai – Chiang Mai (B)
Breakfast and farewell to the camp, then meet with transportation and guide for transfer to Chiang Mai. Stop at Wat Rong Khun, also known as the White Temple. Coffee break at Chivit Thammada, a lovely coffee house set in an English garden style and located by Mae Ping River. And also be made at Mae Krachan Hotsprings before arriving Chiang Mai. Overnight at 137 Pillars House
Distance and journey time:
Chiang Rai – Chiang Mai (197 km): 2.43 hr
Day 7: Chiang Mai (B/L/D)
Depart your hotel at 06.00 AM and arrive at the foot hills of Doi Suthep Mountain, in time to buy offerings and join the locals during the daily alms giving ceremony. (Note: Take away breakfast box from the hotel.) This is a serene Buddhist procession where dozens of monks walk barefoot through the street collecting food and everyday items. Continue up the mountain to Wat Doi Suthep and climb the 309 steps of the Golden Naga staircase to reach its golden pagodas. Proceed to Wat Umong, built in the 14th century, a heavily forested temple covered by moss and small plants offering a unique yet charming sense of natural decay. After a walk through its mysterious tunnels you reach the Viharn of the temple to experience your own private blessing ceremony. Continue to Wat Suan Dok which is famous for its whitewashed Lanna stupas. Finish this lovely morning with a delicious bowl of Khao Soy. This famous Northern Thai dish is a combination of coconut cream, crispy noodles and plenty of spice that is sure to delight. Spend the afternoon on leisure.
On this Chiang Mai Night Discovery tour, you will see exactly why Thailand's second city is a place that comes to life by night. Our evening tour commences at a local temple to join monks in their nightly chanting of prayer. Light some incense or burn a candle and experience this wonderful Buddhist event. From here, it's time for dinner at the beautiful Rachamankha Hotel. Following this, we drive to the lively Waroros market. This market is the hub of local life and bursting with fresh flowers and local street food stalls. Your guide will explore the market with you and sample some local Thai sweets to finish off your wonderful night. Overnight at 137 Pillars House
Day 8: Chiang Mai (B/L)
After breakfast at the hotel, depart for a full day trip to experience a true taste of Thai life, entering the home of a genuine Chiang Mai family. Slip into a pair of local 'fisherman's pants' and join Mr. Prapat on a trip to his home in Hang Dong, discovering traditional local architecture and artisan skills, such as basket weaving, that have gone unchanged for centuries.
Then it's time of select the fresh ingredients needed to cook a sumptuous home-cooked meal. Using this organic produce, Mr. Prapat and his family will teach guests the traditional techniques and skills of northern Thai cuisine, before sitting down to enjoy a family meal served with a glass of wine.
After lunch, guests can spend the afternoon taking a leisurely stroll around the neighborhood to see some of the local cottage industries on show, in a truly authentic setting. Overnight at 137 Pillars House
Day 9: Chiang Mai – Phuket - Koh Yao Noi (B)
Depart to Chiang Mai Airport, take the flight to Phuket. Upon arrival at Phuket Airport, you will be met and greeted by the hotel representative and transfer in a private minivan or luxury sedan to Ao Po Grand Marina Pier in Phuket. Upon arrival at the pier, embark on the hotel's private speedboat to Six Senses Koh Yao Noi where you will spend the nights. Overnight at Six Senses Koh Yao Noi
Distance and journey time:
Chiang Mai Hotel – Chiang Mai Airport (13.2 km): 15 min
Phuket Airport – Ao Po Grand Marina (21 km): 32 min
Day 10-13: Koh Yao Noi (B)
Breakfast at the hotel and spend the days on leisure in the resort or some discovery on the island offered by the resort directly.
Suggested Activity: Koh Yao Noi Tour by Tuk Tuk
Ever wonder where rubber is made, how fish are caught, and where the sacred places are, the locals hide? Join us on a tour of the island as we reveal Thailand's traditions in a nonintrusive manner. Embrace local culture by touring Koh Yao Noi via tuk tuk. Observe fish traps, visit coconut farms and rubber tree plantations, and witness a way of life that may be unique to any that you have ever experienced. Duration: 2 to 3 hours
Suggested Activity: Nature's Bike Trail of Pure Serenity
This guided bike voyage takes you off the main roads to paths less travelled on the island. You will enjoy a scenic and tranquil tour of an assortment of the island's well-kept secrets. Mounted on trekking bikes, you'll cruise along secluded side roads adorned with arching rubber trees, grazing water buffalo and stunning vistas of the sea. On the journeys, you will observe local plantation workers harvesting rubber by hand, the original method for such production. Closer to the beach, observe Islanders tinkering with what is the pride and joy for many, the long-tail boat. A signature aspect of marine life in Thailand and a most romantic option for touring the myriad islands adjacent to our resort, the long-tail boat is inextricably linked to island locals and their humble, noncommercial way of life.
At low tide our journey continues to a small island only 1,640 feet (500 meters) from the Yao Noi coast. That means if the tide is right we will cycle to a different island. Trek through the sand and observe wild oysters on the rocks - this unique paradise is only 1.5 miles (2.4 kilometers) from the resort. Following an invigorating 2.5-mile (4-kilometer) ride, continue to the renowned Haad Yao Beach. Shaded and secluded, this Yao Noi must-do is only accessible by bicycle or on foot. We highly recommend sharing this journey with a guide as it is the surest way to see the untouched side of Thai island life. Duration: 3 to 4 hours
Suggested Activity: Batik Painting
Batik Painting is a cherished craft throughout Southeast Asia. Here on Koh Yao Noi, islanders use batik creations to brighten sarongs, shirts, and blouses as well as to adorn their homes with unique but simple decor. Local batik works illustrate the beauty and allure of our lovely island. Designs showcase limestone karsts, coconut shells, pristine beaches, fruitful palm trees, vibrant flora and fauna, storied fishing boats, and the island's abundant marine ecosystems. Try your hand at batik painting and create something unique and beautiful with your brush. Finished products can be easily packed for transporting back home. What a great way to remember your remarkable and inspiring travels! Duration: 2 hours, artwork requires 24 hours of drying time to set before packing.
Overnight Six Senses Koh Yao Noi
Day 14: Koh Yao Noi – Phuket (B)
After breakfast at the hotel, check out and embark on the hotel's private speedboat, crossing to the mainland of Phuket, arriving at Ao Po Grand Marina Pier. Continue on the hotel's private transfers to Phuket Airport for your flight to next destination.
Distance and journey time:
Ao Po Grand Marina – Phuket Airport (21 km): 32 min
Price in Thai Baht from 01 may 2017 - 31 oct 2017
Pr person in double room                    278995,-
Single supplement                                 169695,-
Price in Thai Baht from 31 oct 2017 to 30 apr 2018
Pr person in double room                    344795-
Single supplement                                 227295,-
Package is not available during the peak season 20 Dec 17 – 09 Jan 18, rates are upon request.
Our Services include:
Accommodation at selected hotels
Meals as mentioned (B= Breakfast, L= Lunch, D= Dinner)
Tours and transfers by air-conditioned vehicle with English speaking guide
Fast Track service at Bangkok Suvarnabhumi Airport on the arrival day (Day 1)
3-day/2-night Four Seasons Tented Camp package and activities at the resort with English speaking assistant
Private transfer from Chiang Rai Airport to Four Seasons Tented Camp with English speaking assistant
Hotel roundtrip private land and private boat transfers between Phuket and Six Senses Yao Noi
Entrance fees for mentioned visits
 Our Services do not include:
Other meals than mentioned
Other services than mentioned
Domestic and international air tickets
Laundry, telephone calls and expenditure of a personal nature
Tips, travel insurance
Early check-in / Late check-out
Peak season surcharge and compulsory gala dinner on festive seasons
Important notes:
• Reservations during peak times (Christmas, New Year, Vietnamese Lunar New Year, National Holidays) may be subject to peak season surcharges and surcharges for compulsory Gala dinners on 24th and 31st december.
• Rooms at hotels are available only from 1400 on arrival day till 1200 on departure date. A supplement will be added if early check-in or late check-out is desired.
• Please note that all the above services & package tours have not been booked yet, they are proposed for your information only. We will not begin any reservation before we receive your confirmation.
• If one or some proposed service(s) is (are) not available at the time of booking, we will try to arrange similar service(s) in order to avoid as many important changes as possible.
• The itinerary may at times be altered by our guides due to local conditions, the skill of participants and other unexpected circumstances. Our priority is always the experience and safety of our clients.
Email: Contact@insighttoasia.com
Phone: +66 856869402
Facebook: Insighttoasia