TREK, PADDLE AND CLIMB SOUTHERN THAILAND
Discover Southern Thailand on land, water and cliff edges. Explore Chiew Lan Lake by kayak to the sound of gibbons calling one another. Trek through the Lush green jungle of Koh Sok National Park, Overnight on floating bungalows before snorkeling the crystal clear waters of Hong island Krabi. Cruise a long tail boat on Phang Nga Bay and jump in the Kayaks to explore secret caves. Stand up paddle board Railay bay before a day's Rock climb in Krabi's most famous place for a rock climbing adventure!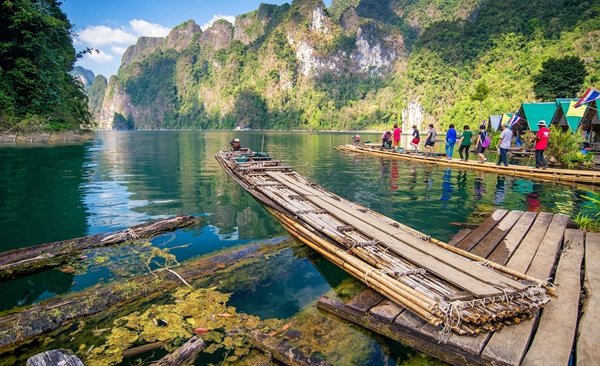 Get active in Khao Sok
Explore Khao Sok's jungles and lakes by kayak and on-foot and stay in the middle of the national park.
See exotic wildlife and marine life
Take guided safaris in Khao Sok and snorkel in Hong Marine Park, seeking out colourful fish and amazing jungle fauna.
Try rock climbing in Krabi
Scale the stunning limestone cliffs of Railay beach near Krabi with a variety of routes for beginners to experts.
Day 1: Phuket Arrival
Arrival into Phuket airport, meet your guide for a transfer to you hotel. Evening at leisure in Phuket. Overnight at The Old Phuket
Distance and journey time:
Transfer from Phuket Airport to Hotel: 1 hour
Day 2: Phuket – Chiew Larn Lake (Kayaking/Trekking)(B/L/D)
Pick up from you hotel in Phuket to transfer to Chiew Larn Lake for your Khao Sok National Park Adventure. Once you arrive at the dam, while your guide gets your park entry ticket you will have the chance to buy any snacks or toiletries you need before boarding your boat.
During the hour long journey across the lake to your raft house, you'll stop by Gui Lin scenic area where karst mountains rise dramatically from the water. Upon arrival at your raft house, check in and be treated to a lunch of traditional Thai food, including a curry and a vegetable stir fry.
After the meal, take a short paddle around the raft house before an afternoon hike through the jungle and learn about the flora and fauna of the world's longest standing forest.
As the day winds down, jump on a long tail boat to go wildlife spotting with your guide and get a chance to see macaque and langur monkeys, hornbills and eagles, gibbons, and if you are lucky, a wild elephant. When you get back, enjoy a traditional Thai dinner of curry and fish before retiring to your floating bungalow. Overnight in a floating deluxe bungalow.
Distance and journey time:
Transfer from Phuket to Khao Sok National Park (195 km): 3.30 hr
Transfer from Khao Lak to Khao Sok National Park (140 km): 2.30 hr
Trekking: Up to 2 hours
Kayaking: Up to 1 hour
Difficulty: Easy
Day 3: Chiew Lan Lake (Trekking/Kayaking)(B/L/D)
The next day, enjoy a simple, but tasty breakfast of rice porridge or eggs and toast. Heading out to a trailhead, you will explore the jungle once again on a second half-day hike in the world's oldest forest. Depending on the season, this could be to a cave, a waterfall, or a viewpoint. After lunch, the rest of the afternoon includes time for swimming and exploring the lake in a kayak.
In the evening, it's time for another wildlife safari to meet the jungle inhabitants – keep an eye out for the dazzling array of tropical birds, and rare species such as the sambar deer and Malayan tapir. End the day with dinner in the restaurant, and sleep well as the lullaby of forest noises hums in the distance. Overnight in a floating deluxe bungalow.
Distance and journey time:
Kayaking: 1 hour
Trekking: 3 hours
Difficulty: Easy
Day 4: Chiew Larn Lake - Khao Sok National Park (Trekking)(B/L/D)
The next morning, get up early for a morning mist safari. As you watch the morning unfold on the lake, your guide will point out wildlife, and the unusual ferns and orchids hanging from the trees.
Return to the raft house for breakfast, which is usually rice porridge or eggs and toast. After you check out of your room, you'll have the rest of the morning to do whatever suits your fancy - relax, swim, and kayak. After another delicious Thai lunch, board your long tail boat and make the scenic trip back to the pier where you will be transferred to hotel in Khao Sok National Park.
Time to relax before you meet your guide to go on an afternoon jungle trek in Khao Sok National Park. Evening adventurous night time safar in the jungle. Many of Khao Sok's wild animals are nocturnal, sleeping in the heat of the day and hunting by night. An experienced night safari guide will take you walking at night, looking for exotic wildlife in the area's fruit farms, where many jungle creatures can be seen at night. Evening Dinner and overnight at the Riverside Cottages.
Distance and journey time:
Trekking: up to 3 hours
Difficulty: Easy
Day 5: Khao Sok National Park - Phuket (Canoeing)(B/D)
Wake up to the sounds of forest birds chirping and gibbons singing in the forest. Have breakfast at 8:30am, and head out at 9:30 for a 2 hour canoe down Khao Sok river. Canoeing along Khao Sok River is a very relaxing way to see a different side of the ecology of the region. Your guide will take you on a canoe safari along the Sok River. Breathtakingly beautiful limestone karsts form the backdrop for the evergreen virgin rainforest we paddle through. Return to the resort to check out of your room by 1pm and have an independent lunch at the river-view restaurant. This afternoon transfer to your hotel in Phuket for Overnight.
Meet your Kayaking guide for Dinner for information on the upcoming days ahead on Phang Nga Bay. Overnight at The Old Phuket
Distance and journey time:
Transfer from Koh Sok National Park to Phuket: 2.5 hours
Trekking: 3 hours
Difficulty: Easy
Day 6: Phang Nga Bay – Koh Yao Yai (Kayaking) (B/L/D)
After breakfast at the hotel, this morning you will have bags packed ready to be picked up and taken on your day kayaking around Phang Nga Bay and onto Koh Yao Yai Village for the night.
Phang Nga Bay, dotted with spectacular limestone islands jutting out from the emerald water, is a must-see for anyone exploring the region. Cruise privately through the picturesque bay in a traditional long-tail to Koh Panak where we take to the water on sit on top Kayaks. Kayak for 45 minutes through Limestone cliffs before we climb on board to cruise to James Bond Island and onto Mangrove Island where we launch our Kayaks into the beautifully blue water for a Kayak around the Mangroves and across the bay to our private lunch spot for a picnic on the beach. Following lunch take to the water for a leisurely swim or back in the Kayaks to explore some nearby caves before we head to Koh Yao Yai Island for your overnight stay. Dinner and overnight at Koh Yao Yai Village
Distances and journey time:
Boat Tour: 09h00 – 3h00
Long tail boat transfer from Phang Nga Bay to Koh Panak: 45mins
Long tail boat transfer from Mangrove Island to Koh Yao Yai: 30 minutes
Kayaking: 2 - 3 hours
Difficulty: Medium
Day 7: Koh Yao Yai (Kayaking, Snorkeling)(B/L/D)
Breakfast at your hotel and then board a long-tail boat to Hong Marine National Park Island, visiting "A Room with the View", called by local people, or "Lagoon", which is originally called. Feel the difference of its true natural beauty. The boat will take you through a group of small and medium sized islands. Be thrilled with a variety of exciting underwater activities. Re lax and snorkel through shoals of eye-catching fish, witness the inner beauty of both deep and shallow sea corals, and swim along the unspoiled white sandy beach surrounding the islands.
Stop for a packed lunch before an afternoon kayaking around Kudu Island. Shallow inlets, limestone cliffs and tucked away beaches are some of the things we experience by exploring the waters around the island before returning to the Hotel for Dinner and overnight. Overnight at Koh Yao Yai Village
Distances and journey time:
Boat Tour: 09h30 – 4h30
Snorkeling: 1 - 2 hours
Kayaking: 3 - 4 hours
Difficulty: Medium
Day 8: Koh Yao Yai - Krabi (Paddle Boarding) (B)
Late breakfast and a quick swim in the bay before check out and transfer 1.5 hour Boat to Krabi for your Stand up Paddle Boarding, trekking and Rock climbing Adventure. Check in and have a bite of Lunch at the resort before you are picked up for an afternoon of paddle boarding on Railay Bay. Your paddle boarding instructor will give you instructions on how to use the paddle boards before taking you around the bay for a 2 hour paddle making this experience as leisurely or strenuous as you desire.
(Currently Maximum groups of 10 people)
Back to the hotel to freshen up before an evening to relax. Dinner at leisure at the hotel or ask your guide to recommend a good sunset view restaurant for your evening dinner. Overnight at Railay Bay Resort
Note: Paddle Boarding can sometimes be weather dependent during rainy season.
Distances and journey time:
Long tail Boat Transfer from Koh Yao Yai to Krabi: 1.5 hours
Transfer from resort to Khao Khanap Nam: 30 mins
Stand Up Paddle Boarding: 2 hours
Difficulty: Easy
Day 9: Krabi (Trekking) (B/L)
Today you have two trekking options
Option 1: Full Day Hard Trek
Early start today for a full days hard trekking at Phenombencha National Park. This 50-sq-km park protects a dramatic area of virgin rainforest along the spine of 1350m-high Khao Phanombencha, just 20km north of Krabi. The name means Five-Point Prostration Mountain, a reference to the mountain's profile, which resembles a person prostrate in prayer, with hands, knees and head touching the ground. The park is full of scenic waterfalls, including the 11-tiered Nam Tok Huay To. Close by and almost as dramatic are Nam Tok Huay Sadeh and Nam Tok Khlong Haeng. Many years ago this was home to clouded leopards, black panthers, Asiatic black bears, barking deer, serow, and tigers. Now they move deeper in-side the forest. If you are lucky you may spot Malayan tapirs, leaf monkeys, gibbons and various tropical birds – including the helmeted hornbill, and extremely rare Gurney's pitta – make their home here. This 5-7 hours trek requires levels of good fitness and agility. The trek follows the river to a cave entrance and climbs quickly into the jungle via rubber tree plantations, spectaculars fauna, and floras.
Option 2: Half Day Soft Trek
Also known as Ngorn Nak Mountain. This is a strenuous hike, but can be completed by most people. A There are a couple steep parts, but overall it's a gradual climb up a well-worn dirt path up the mountain. This ranks as one of Krabi's top 10 things to do. It's a 3.7 km walk up to the summit of Ngorn Nak or calling Hang Nak Mountain in Krabi. Many of you will keep wonder how the beautiful nature along the way will look like with limestone cliffs, fauna, flora, some animal such as lizard, gibbons, birds, butterflies and etc… On the top of Ngorn Nak you will have great eyes-view overlook the local area of Krabi, Phang Nga Bay, Hong Islands and hundreds of islands, by clear sky can see till PP islands. (Trek hours are about 3-4 hours). Return to the Resort for an evening to relax before a full day Rock Climbing tomorrow. Overnight at Railay Bay Resort
Distances and journey time:
Transfer from Resort to Phenombencha National Park: 1 hour 10 mins each way
Full Day Trekking: 5-7 hours
Half Day Trekking: 3 - 4 hours
Difficulty: Medium/Hard
Day 10: Krabi (Rock Climbing) (B/L)
You will be picked up from your hotel in the morning and take a trek across the beach to your rock climbing spot on Railay. You will be briefed on the safety about climbing up the rocks. This tour is an ideal for both beginners and experienced climbers. Your guide will take you to visit 2 spectacular locations and try rappelling/abseiling as well as "top-roped" rock climbing, fun and safe for beginners and for those who have prior climbing experiences. Overnight at Railay Bay Resort
OPTIONAL: Additional 2 day Rock Climbing Course (3 day Total)
A fun and inclusive course for all levels of climbers. It runs for an additional 3 days. Teaching you rope techniques, the equipment and of course climbing; top-rope climbing, leading and multi-pitch climbing, rappelling/abseiling and how to belay well. Receive a certificate, a free T-shirt and lunch. - Self rescue, and rope technique - Top rope climbing - Rappelling - Lead climbing - Multi-pitch climbing - Copy of our course booklet - Certificate and T-shirt
*All courses include equipment hire, water and chalk
*All guides are very experienced climbers and instructor.
*2 nights extra accommodation at Railay Bay Resort and Spa. Dinner not included.
Distances and journey time:
Rock-climbing course: 5-6 hours
Difficulty: Medium
Day 11: Krabi (B)
Following breakfast depart this morning for a transfer to Krabi airport for your onward flight.
Distance and journey time:
Transfer from Krabi Hotel to Krabi Airport: 1 hour
"An itinerary may at times be altered by our guides due to local conditions, the skill of participants and other unexpected circumstances. Our priority is always the experience and safety of our clients."
Price in Thai Baht from 01 nov 2016 – 31 december 2017
Pr person in double room                       108795,-
Single supplement                                       16595,-
Our services include:
• English Speaking certified Adventure Guide
• Drinking water including 3 litres per person per kayaking day
• Bountiful snacks and local fruits
• Additional local guide for 11-15 pax
• Vehicles: (varies based on local conditions and vehicle sizes available)
• 1 first aid kit per guide
• Sightseeing tickets and zone entrance fees where mentioned in the itinerary
• Flight reconfirmations
• Rental of kayaks, paddle and waterproof daypack.
• Luggage transfer
• Meals as mentioned in the itinerary (B – Breakfast, L – Lunch, D – Dinner)
Our services don't include:
• Visa arrangement
• International and domestic flights
• Soft drinks, or beverages beyond water
• Beverage and alcoholic drinks at mealtimes
• Meals other than mentioned above
• Supplement for other language guides
• Tips
• Energy drinks or powders, performance bars, or performance gels (Gatorade, Powerbars, Gu, Isostar, etc)
• Personal Travel Insurance
• Personal expenditure (laundry, telephone etc.)
• Credit card/bank transfer fees
• Any other services not clearly mentioned in the itinerary and in the inclusive portion
• Supplement for other language speaking guides
IMPORTANT NOTES:
• We strongly recommend the purchase of travel insurance (covering emergency medical evacuation) for trips to Thailand.
• The cost of air tickets is subject to change without prior notice by the airlines.
• Reservations during peak times (Christmas, New Year, National Holidays) and locally celebrated festivities may be subject to supplementary charges.
• Rooms at hotels are available in general only from 1400 on arrival day till 1200 on departure date. A supplement will be added if early check-in or late check-out is desired.
• Please note that all the above services & tours have yet to be booked, they are proposed for your information only and we will not make any reservations before we receive your confirmation to do so.
• If one or some proposed service(s) is (are) not available at the moment of booking, we will try to find other possibilities/options or other similar service(s) in order to avoid changes to the program.
Email: Contact@insighttoasia.com
Phone: +66 856869402
Facebook: Insighttoasia