CULINARY DELIGHTS OF VIETNAM
Vietnam is steeped in culture, history and natural beauty, it is no surprise that Vietnam has eight UNESCO Heritage Sites. See the best of these world-famous landmarks during this insightful tour. From the old quarter in Charming Hanoi, to the the beautiful karst mountains of Halong Bay, the world's biggest cave, Hue's imposing Imperial Citadel and the charming old colonial streets of Hoi An, this amazing tour is guaranteed to create ever lasting memories.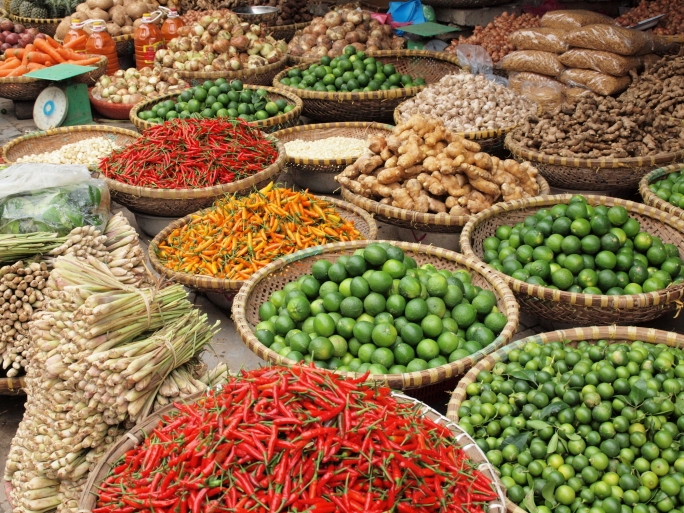 Get immersed in Vietnamese culture
Understand the role that food plays in Vietnamese daily life with visits to markets, family homes and popular local restaurants.
Cook with a local chef
Discover the secrets of Vietnamese cuisine with a hands-on course with an entertaining, professional chef.
Explore Vietnam's street food scene
Taste the best Vietnamese snacks at the Saigon night market and dine at Hanoi's street stalls with a food blogger.
Day 1: Arrive in Ho Chi Minh City (D)
Welcome to Vietnam! For the traveler who loves culture and cuisine, this Vietnam culinary tour will offer a comprehensive experience of the country's tastes and flavours. Upon arrival, the guide will provide a meet and greet at the airport followed by a hotel transfer by private car. In the evening, enjoy a sumptuous dinner at one of the city's finest restaurants.
Vietnamese cuisine can be divided into three categories, each pertaining to a specific region. As North Vietnam is the cradle of Vietnamese civilisation, many of the country's most famous dishes (such as pho) have their birthplace here. The North's cuisine is more traditional and strict in choosing spiciness and ingredients. The cuisine of South Vietnam has been influenced by the cuisines of the Khmer people and thus Southerners prefer sweet flavours in many dishes. The cuisine of Central Vietnam is quite different from the cuisines of both the Northern and Southern regions, not only in presentation but in flavour as well. Central cuisine is served as a course of many small side dishes, and compared to its counterparts it has a distinctive spiciness. Overnight at Park Hyatt in Park Room City View
Distance & journey times:
Saigon's airport – City (12Km): 30 minutes
Day 2: Ho Chi Minh City (B/L/D)
Venture off the tourist trail and explore local, authentic Saigon life on this 2 hour market tour. Pick up begins at 8:30 AM with a short drive to the flower market entrance. Open day and night, this market sells flowers from all over Vietnam. Walk through small alleys and meander through countless flower stalls, taking time to learn the flower names, smell their exhilarating perfume, and interact with the vendors. Exit the quiet freshness of the flower market and delve into a bustling local market. Discover different types of local products such as vegetables, fruits, meat, fish, rice, clothes and jewelry. This tour is a wonderful, non-touristy glimpse into daily Saigonese life.
Continuing to Vietnam's first traditional medicine museum, where an amazing collection of 3,000 items are on display. Enjoy lunch at Dong Pho restaurant. Step off the beaten track in the afternoon into the oldest quarter of the city. Explore Saigon's well-kept secret, Antiques Street (Le Cong Kieu), followed by a visit to the Beaux-Arts Museum, a superb neo-colonial building home to various modern arts. Top off the visit with a taste of Ho Chi Minh City's best ice cream. Fanny's serves everything from durian ice cream to lychee sorbet in its French-parlor setting.
Saigon after dark: 18:00 – 22:00
Experience the nightlife of Ho Chi Minh City the way locals do, all from the back of a vintage Vespa scooter. Begin at 18:00 with a pick up from the hotel before hitting the buzzing streets. The first stop will be a varied sampling of light evening snacks before continuing to a traditional quan (bia hoi) for dinner and drinks. Complete the evening out just like the locals- with a visit to a Vietnamese-style coffee shop. The night adventure finishes at 22:00 with a transfer back to the hotel. Overnight at Park Hyatt in Park Room City View
Notes:
+ It's best to not eat or drink before the food tour!
+ All clients sit on the back of Vespas to travel from place to place
+ Guides/Drivers are from the Vespa Team
Day 3: Ho Chi Minh City – Mekong Delta - Ho Chi Minh City (B/L)
Head out of the city in the morning for the 2.5 hour drive to the Mekong Delta town of Cai Be. Upon arrival, board the Victoria boat. Modelled after traditional sampans, these are the perfect way to see the Delta. The tour starts with the visit of Cai Be's colourful floating market. Proceed on to visit some local industries crafting rice popcorn and coconut candy. The day's journey continues with an excursion to Dong Phu, Binh Hoa Phuong, and Anh Binh islands. These evergreen islands among the Mekong River bring about large networks of meandering rivers, crossed with countless arroyos.
Lunch awaits at a superb colonial style villa located in a quaint village. The specialty of the Mekong, 'elephant ear fish', will be served, grilled and wrapped in rice paper together with fresh herbs. Following the meal, it's back on board the boat to discover the beautiful landscapes along the river. After crossing the Co Chien River, the boat will dock and the trip will continue back to Ho Chi Minh City via road. The evening is free to discover the vibrant southern city. Overnight at Park Hyatt in Park Room City View
Distance & journey times:
HCMC – Cai Be (120km): 2,5hours
Day 4: Ho Chi Minh City – Da Nang – Hoi An (B/L)
Transfer to the Saigon airport for a flight to central Vietnam. From the Danang airport, take the 30-minute drive south to the ancient port town of Hoi An. Despite the passing of 200 years and the ravages of weather and war, the centre of Hoi An remains relatively untouched since its heyday.
A walking tour is the best way to see this marvellous town, paying visits to the former merchants' homes, the 400 year-old Japanese Covered Bridge, and the colourful market. Enjoy lunch at Morning Glory Restaurant. Situated in an elegant traditional style building in the heart of Hoi An's old town, Morning Glory offers 'Street Food' on the ground floor of the restaurant featuring Hoi An specialty foods. The upstairs balcony is perfect for small group as the views are excellent over the street. Evening at leisure. Overnight at Anantara Resort in Junior Suite Garden view
Distance & journey times :
HCMC – HCMC's airport (12km) : 30 minutes
Danang airport – Hoi An (40Km) : 50 minutes
Day 5: Hoi An Cooking Class (B/L)
Begin the day with an 08:00 meeting at Hai Cafe. Enjoy a welcome drink at the restaurant before traveling by minivan (10 minutes) to Tra Que Organic Village. Take a walk through the gardens where local farmers work the fields using traditional methods. Pick fresh, saw-tooth coriander and Vietnamese mint, which will be used later in the day's cooking class. Head to the local village market to peruse and peruse and purchase local ingredients, from star anise and cardamom to sesame rice paper, water spinach and banana flower.
Continue on to Red Bridge Cooking School for a chance to freshen up before the class. Working together with the resident chef, learn the traditional means of preparing and cooking Vietnamese food from scratch. Using the day's fresh ingredients, cook four famous dishes, including the national dish, Pho. After preparing the meals, sit down to enjoy the day's creations along the tranquil Thu Bon River of Hoi An. After the meal(s), enjoy a dip in Red Bridge's swimming pool.
The meals of the day will feature:
1. Beef Noodle Soup (Pho), includes the making of fresh rice noodles
2. Clay Pot Fish with Fresh Dill (Cha Ca)
3. Lemongrass Shrimp grilled in Banana Leaves (Tom Nuong La Chuoi)
4. Grilled Chicken and Banana Flower Salad (Goi Hoa Chuoi Ga Nuong)
* Lunch includes all of the above meals
The experience will finish around 14:00. Transfer back to Hoi An and enjoy the remainder of the day free at leisure. Overnight at Anantara Resort in Junior Suite Garden view
Day 6: Hoi An - Hue (B/L/D)
Embark on the 3-hour drive from Hoi An to Hue. The scenic route passes through Danang, where a visit to the Cham museum is in order. Continue the drive over the Pass of Ocean Clouds, dropping down to the wonderfully photogenic fishing village of Lang Co. No culinary tour of Vietnam would be complete without a visit to Hue. Regarded as the best in the country, the 'royal cuisine' of Hue originated in the days of the Nguyen Dynasty, when the rulers were served lavish meals meeting specific culinary demands. Although the emphasis today is on presentation, the delicious flavours of the royal cuisine continue to tempt modern palettes. Lunch at Ancient Hue restaurant
Pick up from hotel by cyclo and head to dai noi 'Old City' to Tinh Tam Lake (a former emperor holiday spot). Continue by cyclo to Tay Loc Market, located in the northwest part dai noi. This market is mostly for locals and is rarely visited by tourists. From here transfer by vehicle to the Imperial Citadel where the Nguyen Dynasty ruled between 1802 and 1945. The ancient citadel reflects the pomp and ceremony of the dynastic rulers as well as the scars of many years of turmoil, both ancient and modern (the Royal Citadel was badly damaged in the latter stages of the war).
Dinner this evening will be held at the 'garden house' known locally as 'nha vuon'. This traditional style house, which is set in a large and attractive formal garden, has connections with the ancient Hue Royal Imperial Court. A traditional Vietnamese greeting will be encountered on arrival, followed by an extraordinary meal prepared by the lady of the house. Meal is served privately in the traditional manner in the private gardens of the home. Overnight at La Residence Hotel & Spa in Deluxe River View
Distance & journey times:
Hoi An – Hue (150km): 3 hours
Day 7: Hue (B/ L)
The morning starts with a visit to the Thien Mu (Celestial Lady) Pagoda overlooking the Perfume River. Constructed in 1601, a 21-meter tall tower is the centrepiece of the pagoda representing seven reincarnations of Buddha. Also located within the grounds of the pagoda is the Austin car made famous during the 1963 self-immolation of a resident monk, one of the most famous images from the American War. Continue the visit to the tomb of Emperor Minh Mang, located in a tranquil setting of gardens and ponds. For lunch, sample some of Hue's specialty food at Huynh Anh Kim Long. Frequented only by locals, this restaurant serves banh uot, a steamed rice pancake stuffed with delicate, finely chopped pork and bun thit nuong which is a rice noodle dish served with grilled meat.
Proceed in the afternoon to the 500 year old weaving village of Bao La, on the road to Thanh Toan Bridge. Bao La villagers work hard to meet the demands of foreign and domestic market and are proud of their dexterity, creativity and passionate expressions. After visiting Thanh Toan (one of two covered bridges in Vietnam), take the hour drive north to the 500-year-old village of Phuoc Tich. Once famous and prosperous for its pottery, the village has dozens of homes that date back 100 to 200 years, in addition to several old temples, pagodas, worship halls and communal houses. The religious culture of the village is seen via families, which have their own ancestor worship halls, each worshiping five direct generations. At the end of the afternoon head back to the hotel. Evening at leisure. Overnight at La Residence Hotel & Spa in Deluxe River View
Day 8: Hue - Hanoi (B/D)
After a morning of leisure, transfer to the airport for a short flight to Hanoi, Vietnam's capital. Upon arrival, a guide and private car will provide transport to the hotel for check-in. Head into the city to visit Hanoi's Old Quarter, also known as the '36 streets'. Take a walking tour through charming Hang Be Market and around Hoan Kiem Lake, stopping off at Ngoc Son temple. This bustling area of narrow streets and alleys is home to literally thousands of small businesses and shopkeepers.
Continue on to the Temple of Literature, the first university of Vietnam. Founded in 1076, Quoc Tu Giam was established within a temple to educate Vietnam's royalty, mandarins and members of the elite. The university functioned for an incredible 700 years and its gardens and well-preserved architecture offer a fascinating glimpse into Vietnam's past. Continue to the Mausoleum of Ho Chi Minh, the historic figure and father of modern Vietnam, and visit the former president's house on stilts where he lived from 1958 to 1969. Continue on to the small but iconic One Pillar pagoda before heading back to the hotel.
Dine this evening at La Verticale, located in a charming villa dating back to the 1930's. The cuisine is considered as artistic, uncluttered and extremely diverse in flavour. Acclaimed Chef and owner Didier Corlou has lived in Vietnam for 15 years and has a clear love affair with Vietnamese food. Overnight at Sofitel Metropole in Premium Room
Distance & journey times:
Hue – Hue's Airport (20km): 40 minutes
Noi Bai airport – Hanoi (38km): 1 hour
Day 9: Hanoi Street Food Tour with Blogger (B/L)
After breakfast, depart for an insider's street food tour of the capital city. Depart from the hotel around 09:30 alongside one of Hanoi's most well-known food bloggers. Discover some of Hanoi's top street food dishes accompanied by unique cultural adventures with this locally-renowned expert. Begin the experience with a drive to the centre of Hanoi. Once in the centre, the tour commences on foot, so be sure to wear comfortable shoes! Stroll through the Old Quarter along the old east gate to Thanh Ha Market.
Along the way, sample and learn about delicacies and strange food items, alongside some traditional vietnamese food practices. Continue through the Old Quarter to the Dong Xuan market, sampling some local treats along the way. In the market, walk down 'food alley' to see some of the dishes on offer, followed by a visit to the market's main food sections, selling everything from dried goods to aromatics- all essentials of Vietnamese cuisine. Walk down to Hang Than Street to view ceremonial cake stalls and sample some French-inspired desserts.
Continue back into the Old Quarter via Hang Cot Street where an array of fruit is on display, heading next to Phung Hung Street where makeshift market stalls reflect Hanoi's clash of tradition and modernisation. At the end of the tour, stop at one of the Old Quarter's busiest (yet smallest) coffee shops for a well-earned sit down and coffee. Enjoy the remainder of the day at leisure. Overnight at Sofitel Metropole in Premium Room
Day 10: Hanoi – Halong Bay (B/L/D)
After breakfast leave Hanoi for an overnight boat trip on Halong Bay. Journey there through the rich farmlands of the Red River Delta, observing everyday life of Vietnamese villagers along the way.. Arrive in Halong City late morning and board the boat for the overnight journey into the Bay. Lunch will be served en route, whilst cruising along the bay's iconic limestone formations. Towards the end of the day set anchor for the night. As the sun sets over the bay, dinner is served on board with fresh seafood, salads, and fruits. Overnight on Halong Bay on board Paradise Peak Cruise in Junior Suite Cabin.
Distance & journey times:
Hanoi – Halong (200km):3.5 hours
Day 11: Halong Bay - Hanoi (B)
For early risers, complimentary tea and coffee are served on the sundeck followed by a Tai Chi class. On the cruise back to Halong City, enjoy a wholesome brunch as the boat weaves back to port through strange-shaped limestone rock formations. Upon disembarkation, the driver will provide a private transfer back to Hanoi. Afternoon and evening at leisure. Overnight at Sofitel Metropole in Premium Room
Distance & journey times:
Halong - Hanoi (200km):3.5 hours
Day 12: Departure from Hanoi (B)
Today is departure day. A private car and guide will be available up until the final departure to the airport.
Distance & journey times:
Hanoi - Noi Bai airport (38km): 1 hour
Price in USD from 01 may 2017 - 30 sep 2017  
Pr person in double room                      3995-
Single supplement                                   2135,-
Price in USD from 01 oct 2017 - 30 apr 2018  
Pr person in double room                      4210-
Single supplement                                   2310,-
Our services include:
Accommodation in a shared twin or shared double room at luxury hotels (it is of course possible to make the tour with cheaper accommodation, price on request)
Meals as mentioned (B= Breakfast, L= Lunch, D= Dinner)
English speaking local guide
Tours and transfers as mentioned by private air conditioned vehicle
2 day Halong Bay cruise with Paradise Peak Cruise in Junior Suite Cabin and full board
Boat trips as mentioned in the itinerary
Entrance fees for mentioned visits
Our services do not include:
Other meals than mentioned
Other services than mentioned
Visa for Vietnam (Visa issued on arrival for most nationalities, USD 45/pax, please bring 2 passport photos. Please check with your Travel Consultant for more detailed information.)
International and domestic Flights
Laundry, telephone calls and expenditure of a personal nature
Tips, Travel insurance
IMPORTANT NOTES:
We strongly recommend the purchase of travel insurance (covering emergency medical evacuation) for trips to Vietnam.
Prices are valid 30 days from date of offer. Past this date price and conditions may be readjusted.
The cost of air tickets is subject to change without prior notice by the airlines.
Reservations during peak times (Christmas, New Year, Vietnamese Lunar New Year, National Holidays) may be subject to supplementary charges.
Rooms at hotels are available only from 1400 on arrival day till 1200 on departure date. A supplement will be added if early check-in or late check-out is desired.
Please note that all the above services & tours have yet to be booked, they are proposed for your information only and we will not make any reservations before we receive your confirmation to do so.
If one or some proposed service(s) is (are) not available at the moment of booking, we will try to find other possibilities/options or other similar service(s) in order to avoid changes to the program.
Email: Contact@insighttoasia.com
Phone: +66 856869402
Facebook: Insighttoasia